Structure of Bones
Innovation in DXA
DMS, always at the forefront of innovation will showcase its innovations in DXA technology and applications, 3D-DXA and body composition.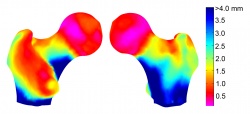 3D-DXA, the breakthrough technology only available on the DMS product range takes routine BMD images and reconstructs a 3D image of the femur giving bone health experts access to information about bone structure, such as cortical thickness of the bone that was never before possible using DXA images.
DMS bone densitometer equipped with 3D-DXA will offer an expert diagnosis and pave the way to a more tailored treatment follow up.
Our body composition software allows our DXA solutions to give precise and localized information on the distribution of fat and lean mass within the body. This is the ideal tool for patients/specialists involved with weight management, or for training improvements for athletes. The body composition report will be the ideal road map for professional and health conscious people as well as those who are interested in monitoring their weight.
For more information visit our website: www.dms.com