ECR 2015
Esaote launches Evolution'15
At ECR 2015 Esaote, a world leading manufacturer of medical diagnostic systems, introduced Evolution'15 (EVO'15) as the latest upgrade in its dedicated MRI Evolution program. EVO'15 combines software updates and new hardware features to provide superb image quality and increases productivity by almost 50%.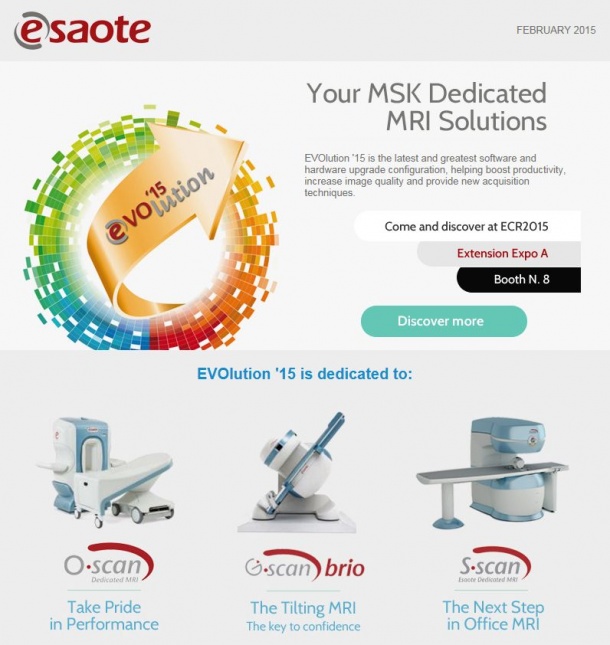 Enhanced Productivity and Increased Image Quality
Powered by eXP technology, EVO'15 reflects the continual collaboration between Esaote's R&D team and clinicians that ensures its dedicated MRI offering remains at the cutting edge. Evolution'15 is available across Esaote's entire MRI portfolio and provides the following benefits:
• Increased image quality for better diagnostic accuracy, due to a combination of sophisticated software algorithms (eXP technology), graphic processing unit (GPU) and X-MAR (Metal Artefact Reduction) which reduces inhomogeneity, allowing for a better evaluation of the prosthesis
• Reduced image acquisition and reconstruction times by as much as 50%, thanks to Speed-Up Pro, helping to increase throughput and minimise patient discomfort
• Increased signal homogeneity and SNR as a result of the multichannel lumbar and cervical spine coils

'10 Minute Weight-Bearing Protocol'
By combining patented Speed-Up technology with GPU-based image reconstruction, the EVO'15 upgrade for Esaote's G-scan Brio, enables a very fast acquisition protocol for evaluation of spine morphology in the weight-bearing position, for the first time ever - in under 10 minutes.

Dr Frieder Mauch, Head of the Department of Shoulder and Elbow Surgery and MR Imaging at Sportklinik Stuttgart in Germany, uses the EVO'15 upgrade with Esaote's weight-bearing G-scan Brio: "Having two or more images showing what is happening when the patient is in different weight-bearing positions can give a better idea of the mechanical issue causing the pain. Before the EVO'15 Upgrade, this exam procedure took longer, which meant greater patient discomfort, and more movement artefacts. Now, with the EVO 3D sequence, we can run just one steady state sequence in just one plane, and then reconstruct images in any other plane using the MPR (Multi Planar Reconstruction) features. This makes for a full weight-bearing exam in less than 10 minutes."
With its new eXP technology, Esaote has achieved a reduction in scan time of up to 50%. This enables a significant increase in patient throughput, improving system economics for a maximum return on investment. Eugenio Biglieri, MRI Global Marketing Director at Esaote, explains, "The eXP technology developed for the Evolution'15 upgrade has been engineered to achieve the 'seemingly impossible': improve image quality, yet reduce scan time."

EVO'15: Software Upgrades
The EVO'15 upgrade has been designed to meet increased demand from physicians and clinics wishing to offer high-quality, on-site dedicated MRI
services:
• EVO 3D: isotropic 3D sequences reduce voxel size, enabling high resolution Multi-Planar Reconstruction. Used in conjunction with Speed-Up Pro, scan times are reduced by almost 50%
• X-MAR: uses new imaging sequences that increase signal to noise ratio, yet also reduce scan time. Visualisation is improved using enhanced image contrast and metallic artefact reduction to reduce in-plane metal distortions (ideal for evaluating prosthesis instabilities and for post-operative patients)
• e-Spine: optimised spine protocols and examination management for image clarity, plus improved patient comfort and operator usability
• Speed-Up Pro: enables superior image quality in reduced scan time, due to enhanced acquisition and reconstruction methods

EVO'15: Hardware Features
EVO'15 includes brand new multi-channel coil upgrades for performance-enhanced ergonomics and patient comfort. The advanced technology has been developed by using low-impedance pre-amplifier which is able to achieve a more efficient channel de-coupling for maximum signal detection. For a full range of coils and features, click here .
EVO'15 is available across Esaote's dedicated MRI product range, including the O-scan, S-scan and G-scan Brio.
Source: Press Release Esaote
More on the subject:
More on companies: