i-STAT®
Increase efficiency, reduce costs & improve care
Abbott's i-STAT® 1 Wireless System is now available for use in hospitals, emergency rooms, physicians' offices and other health care environments in Europe and regions that recognize CE Mark. A portable, handheld blood analyzer, the i-STAT® uses two to three drops of a person's blood to perform common tests right at the bedside. By providing and transmitting test results within minutes to a patient's electronic medical records (EMR), the wireless device provides information to help enable clinicians to make important medical decisions quickly and accurately.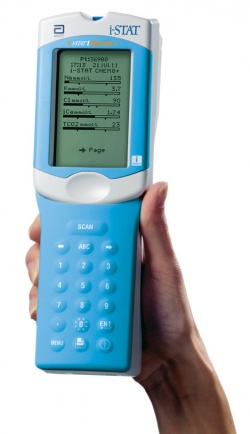 "When it comes to clinical decision-making, time is critical," said Dr. Florian Falter, a consultant anesthetist at Papworth Hospital in Cambridge, United Kingdom. "Wireless point of care technology improves our team's ability to have fast access to blood test results and will help doctors act quickly to determine the best course of treatment. Being able to act without much delay is especially important in high-risk and intense situations."
For patients experiencing acute events that need rapid response, like chest pain, doctors and nurses can use the i-STAT® 1 Wireless System to perform a cardiac blood test, which helps detect a protein (troponin) associated with heart injury to determine if a person is having a heart attack. Abbott's technology transmits the test results for rapid review by a physician, which is particularly important in emergent situations.
In busy health care environments, the speed of the i-STAT® 1 Wireless System can improve efficiencies for clinicians and their health care systems by simplifying the testing process. Additionally, as electronic medical records are being introduced more widely as standard practice, the wireless i-STAT® can also automatically transfer a patient's results, replacing manual entry of results and reducing the risk of human error. This means there may be savings from a time, cost and a staff resource perspective, allowing clinicians to focus directly on patient care.
"Abbott's i-STAT® point of care testing system is already being used successfully in hospitals and in other medical environments across Europe," said Luc Ruysen, divisional vice president, international commercial operations, Point of Care, Abbott. "We look forward to having the new wireless capability further increase the use of the technology and offer clinicians a tool to help increase efficiency, reduce costs and improve care."
About Abbott Point of Care:
Abbott Point of Care is headquartered in Princeton, N.J., and develops, manufactures and markets critical medical diagnostic and data management products for rapid blood analysis. The company's premier product is the i-STAT® System, a handheld device capable of performing a broad menu of tests, including cardiac markers; blood gases; coagulation; lactate; chemistries/electrolytes; and hematology, using two or three drops of blood at the patient's side.
Source: Abbott Point of Care