IMS – dedicated to breast care
The Italian firm Internazionale Medico Scientifica (IMS) produces highly innovative mammography units under the brand name Giotto. More than 3,500 Giotto systems are now in use in 38 countries, mostly in Europe, America, China and the Far East. Reason enough for European Hospital to visit IMS in Pontecchio Marconi, Bologna.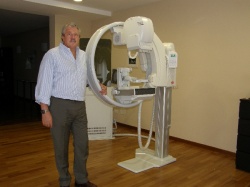 Legend has it that the 13th century Florentine artist Cimabue noticed a 12-year-old boy drawing a sheep on a rock and promptly made Giotto di Bondone his apprentice. Years later, when Pope Boniface VIII sent a messenger for proof of Giotto's skills, with one stroke of his brush the artist drew a perfect circle for despatch. His abilities in painting, sculpture and architecture thus placed Giotto among the world's greatest artists. 'He became patron saint of the Giotto mammo system not only because he was a real master of his trade,' explained Achille Albanese, Marketing Director at IMS, 'but because the ID card of the Giotto is the ring-shaped gantry that makes perfect 3-D visualisation possible.'
Back in 1965, Bruno Toniolo founded a company to sell X-ray accessories, conventional radiography and fluoroscopy units to Europe, the Middle East and North Africa. Having gained invaluable export experience as well as an understanding of the technology and needs of users, by 1980 Toniolo was manufacturing and selling his own range of automatic film processors and X-ray units under the company name IMS.
Ever entrepreneurial, when a US radiologist hinted that a more effective breast examination could be achieved if the radiographer stood face-to-face instead of to the side of a patient, Toniolo perfected the idea by adding a tilting feature to the rotating gantry. This slight-inclination positioning helps the patient to relax her pectorals, enabling the radiographer to pull more breast tissue into the bucky – in a large breast making a difference of up to 2 cm! Thus Giotto, a unique mammography unit, was born.
Launched in Europe and the USA in 1989, to this day three commercially available Giotto units provide both face-to-face and conventional 3-D positioning, with the tilting feature also enabling stereotactic biopsies in upright as well as prone position. 'In some countries, such as France, prone breast biopsy receives higher reimbursement than conventional upright breast biopsy, because it's clinical proven that it's more accurate in breast tissue diagnosis,' explained Achille Albanese.
Entering the white single storey headquarters of IMS headquarters in Bologna confirms the IMS transition from simple vendor to manufacturer. The building houses both factory and an important R&D centre. It was here, for example, that the first amorphous selenium (a-Se) detector was tested under mammography conditions. The first ever clinical trial of the a-Se detector followed in the Breast Department at Maggiore Hospital, a public instituation and close science partner of IMS.
In 1998, IMS and Canadian manufacturer Anrad (at that time named Noranda) launched the first selenium-based panel in a mammo unit. In Giotto, a-Se detector technology directly converts X‐ray into digital signals to be processed in seconds into high quality images. 'The reading time is a little bit less than one image per second, but Anrad is developing an even faster detector for us, to provide three images per second,' Achille Albanese disclosed.
In 2003, the IMS Giotto IMAGE SD pioneered Full Field Digital Mammography (FFDM) in Europe. The technique has improved sensitivity, particularly in the dense breast. A year later, IMS became the first manufacturer worldwide to use FFDM for stereotactic biopsy examinations. Additionally, IMS has always concentrated efforts on dose reduction: the introduction of a combination of Tungsten anode tube with first rhodium and now silver filter, significantly decreases radiation dose up to 50%.
Which market might prove the greatest for the IMS FFDM systems? 'Definitely the USA, because it represents more than 50% of the world's digital radiology market,' Achille Albanese affirmed. 'CR systems are not approved by the FDA, with the exception of a Japanese manufacturer. So, while the FFDM market in Europe and the rest of the world has been shared in the last five years between digital and analogue mammography, CR in mammo is practically unknown in the States. China is another growing market for us – we're already the number two seller in DR systems there.'
The Giotto FFDM must need FDA approval? 'Yes, this is a difficult situation,' he assented. 'So far, there are only two competitors, GE and Hologic, which have received the FDA mark (Siemens has not received approval for its latest FFDM system). But there's a major change. Since digital mammography became an established technology, clinical trials are no longer necessary, which is why the FDA announced a change from stringent pre-market notification to the 510 (k) clearance process later that year. So, we are optimistic.'
New digital technologies are also in the works at the IMS, including two R&D projects on dual energy and contrast enhanced digital mammography. The company's focus definitely remains on digital breast tomosynthesis: 'The starting shot for our first multicentre European clinical trial on tomosynthesis will be this autumn,' said Achille Albanese. 'Again, you can count on it that our tomosynthesis technology will be optimised especially for breast care.'
More on the subject:
More on companies: