iF product design award 2011 HI VISION Avius
Hitachi Medical Corporation is delighted to announce that its HI VISION Avius ultrasound platform has been selected as a recipient of the iF product design award 2011 and is proud to now carry the iF design quality label.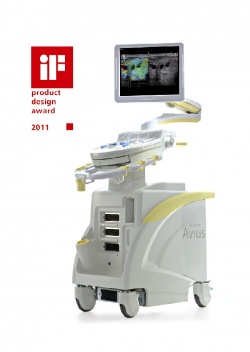 Manufacturers, designers and the interested public came together to celebrate design excellence. The get together provided a forum for the exchange of knowledge and experience, as well as for discussions on current and future design trends. Out of 2,756 entries by 1,121 participants from 43 different nations, 993 iF product design award 2011 winners were selected.
In late November 2010, a group of international experts met for two days of exciting discussions to select the best designs and as a result, Hitachi Medical has joined the leading design players with its HI VISION Avius®, a paramount example of innovation, ergonomics, safety and functionality in modern medical product design. According to the jury, there was a noticeable "revival of brands". Many well-known companies, and especially those with a longstanding tradition, are increasingly refocusing on their brand values and know-how that made them the successful manufacturers they are today.
"Among this year's entries, there were several extremely good examples of designs which communicated the brand philosophy of a company in a particularly successful fashion", the jury said. The jurors, who selected winners in 16 categories, summarized the design quality of the entries for the iF product design award 2011 by pointing out that, particularly in times of economic upheaval, design represents a crucial factor with regards to value creation and market success. In many of the submitted products, design was the benchmark aspect. For over fifty years, the iF Industrie Forum Design e.V. has been based at the Hannover Exhibition Center. Launched in 1953 as the "Special Show for Well-designed Industrial
Goods", the organization was expanded in 2002 to include a new operating arm: iF International Forum Design GmbH, which is now responsible for all iF business areas. This expansion was the result of iF's gradual evolution from a design-promoting institution into a contemporary service enterprise which exercises a critical function as a mediator between design and industry. This special capacity allows iF to make a significant contribution to the success of design services in an economic context as well as enhance public awareness of the importance of design. Across the globe, the iF brand, with offices in Hannover/Germany, Munich/Germany, Taiwan, Korea and Brazil, is an established symbol for exceptional design achievement.
The iF award winners are selected by independent juries made up of internationally renowned designers, entrepreneurs and academics who evaluate all entries according to predefined criteria.

More on the subject:
More on companies: