How small RNA molecules impact biomedical research
The discovery of small RNA molecules and their relevance for gene regulation has dramatically changed our understanding of many essential cellular processes — and provides the opportunity to develop new ways for treating various diseases. By selectively inhibiting gene expression and thereby "silencing" genes involved in pathogenesis, the RNA molecules constitute a unique tool to treat cancer, neurological disorders or viral infections and other human diseases.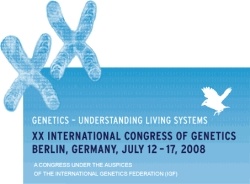 At the
XX International Congress of
Genetics
, held in Berlin from July 12-17, 2008, renowned experts will
present the results of their latest research in RNA biology and discuss
potential applications.
The process by which small RNA molecules inhibit gene expression is
called RNA interference or "gene silencing". Andrew Fire and Craig Mello
were awarded the Nobel Prize in Physiology or Medicine in 2006 for the
discovery of RNA interference. Only eight years before, the US-Scientists
had shown that by injecting double-stranded (ds) RNA molecules into the
roundworm Caenorhabditis elegans the expression of homologous genes is
inhibited.
Another set of small RNA molecules, named microRNAs, was discovered in
2001.These are of endogenous origin and likewise regulate gene
expression by base-pairing to and degrading mRNA. The therapeutic
potential of RNA interference was immediately recognized once it was
shown that it also works in mammalian cells. Theoretically, small RNAs
can be constructed and directed against any known gene sequence.
Aberrant genes can thereby be silenced and pathogenic processes
eliminated.
"The tremendous significance of microRNAs for gene regulation and
developmental processes was not predictable five years ago, when the
last International Congress of Genetics took place in Melbourne", says
Prof. Dr. Alfred Nordheim, Secretary General of the
XX International
Congress of Genetics
in Berlin. "Today, small RNAs are increasingly
developing into a therapeutic tool and there is reasonable hope that this
will be successful in the near future", Nordheim, head of the Department
of Molecular Biology at Tübingen University, assumes.
Promising results have already been reported in several animal models
and also in clinical trials. In patients with macular degeneration for
example, the debilitating growth of blood vessels was stopped with small
RNA molecules against the growth promoting factor VEGF. Before the
widespread implementation of RNA therapies, several obstacles have to
be overcome. For example, scientists have to improve transport
efficiency into the cells, find ways to prevent the molecules from being
degraded in the cytoplasm and enhance their specificity for the target
RNA.
Apart from RNA genetics, modern genetic research is already contributing
a lot to fight human diseases. In recent years, improved sequencing
techniques made it possible to rapidly diagnose infectious bacteria or
other pathogens. Bacterial cultures of patient specimens, which often
take days to grow in the laboratory, thus become redundant, and
effective therapies can be implemented sooner. "There is hardly a
disease without a genetic component", Prof. Alfred Nordheim explains:
"Not only pathogens, but also food, lifestyle or radiation can make us sick
by influencing and changing our genetic information or its expression. We
are now beginning to understand the functioning of a cell on the
molecular level."