Hitachi presents…The world's first oval bore 1.5-T MR system
Education and science are not the only exciting aspects of the European Congress of Radiology; the Vienna venue is also a stage on which companies can introduce novel concepts in medical imaging. Following one product's world premiere during the RSNA 2011 in Chicago, the Echelon Oval 1.5-T MR system is now debuting before a European audience at the ECR 2012.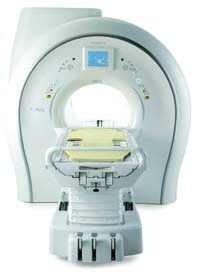 Along with this new product, Hitachi Medical Systems, a full-line supplier of diagnostic imaging equipment, has more than one ace up its sleeve this year to convince the expert ECR audience of its continuing innovative drive
The Echelon Oval 1.5T MR system
At ECR 2012 Hitachi is showing an MR scanner unseen in the world before. Known as one of the largest open MRI manufacturers on the international market, with more than 5,000 installed systems and a wide range of open MRI units ranging from 0.2-Tesla up to 1.2-T, the Japanese company is the first ever to present an ultra wide oval bore 1.5-T system – the Echelon Oval.
With this system, Hitachi points out, MR imaging is taking a new form. 'The Echelon Oval is the first scanner ever to have an elliptic bore magnet that horizontally extends to 74 cm. The advantages are as simple as subtle. Because the human body is wider horizontally across the shoulders than it is vertically through the chest, the newly-developed oval bore system gives a feeling of openness and is perfect for people of any size, even for very heavy patients.
'The mobile table can handle people up to 660 pounds and is the widest -- 65 cm -- table available today. Additionally, integrated coils built into the table enable the fastest scanning with the highest imaging quality.
'The high-end 16 channel coils with optical technology and fibre-optic coil technology give us the ability to take coil data and transfer it back to the system without any loss of signal to noise.'
Real-time Virtual Sonography (HI-RVS) – a perfect match
Another highlight of the manufacturer's innovative product line on show at the ECR is the Hitachi Real-time Virtual Sonography (HI-RVS), a feature installed on Hitachi's premium ultrasound platforms, HI VISION Preirus and HI VISION Ascendus. This navigation tool enables image fusion of a real-time ultrasound examination with CT or MR images or contrast enhanced ultrasound volume data. Thus the maximum amount of information from all image modalities comes together on one single ultrasound platform and facilitates reliable diagnosis as well as accurate image guided interventions, Hitachi points out. 'To perform the image fusion, HI-RVS holds some technical refinements, such as flexible target and navigation markers, loading of multiple sequences, or 3-D navigation of the imaging scan plane. A versatile range of transducers means that the modality can be used to guide a wide range of clinical procedures, e.g. tumour ablation, complex biopsies, drainage and therapeutic injections.
SCENARIA multi-slice CT system – less is more
In combination with HI-RVS, Hitachi is also showing its multi-slice CT system SCNEARIA. During this scanner's development the firm's clear focus was on dose reduction. With its 0.35-second rotation speed the whole body system not only speeds up workflow in both, routine and advanced applications - e.g. cardiac examinations - but also strongly reduces dosage.
SCENARIA also includes other dose reduction features such as the combination of a lateral-shifting tabletop with a smaller X-ray bow-tie filter, Intelli EC-Exposure Control and Intelli IP-Iterative Processing. 'SCENARIA also excels in 3-D visualisation and analysis capabilities critical to physicians, by offering an integrated TeraRecon iNtuition server with a full range of advanced clinical applications that are simultaneously available to multiple users,' Hitachi adds.

Meet Hitachi at ECR 2012, booth no. 320, Expo C.