High-end ultrasound at Sahlgrenska University Hospital
Sahlgrenska University Hospital provides emergency and basic care for the 700,000 inhabitants of the Gothenburg region. It also provides highly specialised care for the 1.7 million inhabitants in Sweden's west because, in this country, endoscopic ultrasound examinations are only provided in university hospitals. Thus Sahlgrenska's physicians receive referrals of difficult diagnostic cases from the entire area and therefore, as end-stage decision makers for such patients, the medical team needs highly advanced imaging

technology. In April this year, the hospital's gastroenterology department received the latest high-end ultrasound system – Hi Vision Ascendus by Hitachi Medical Systems – becoming one of the first centres to do so beyond Japan.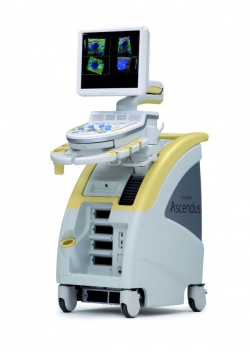 Due to its high-resolution image quality the new system is mainly deployed in endoscopic ultrasound for tumour staging as for example in oesophageal cancer and pancreatic cancer. Tissue microvasculature visualisation can even be enhanced using the contrast harmonic imaging feature after contrast injection. Regulating the frequency modulation ensures images of greater depth sensitivity.
Another main indication for the Hi Vision Ascendus are biopsies of small pancreatic tumours – a clinical and research focus at the hospital, Associate Professor Riadh Sadik, senior physician of the division, points out: 'In these cases it is often difficult to decide whether the lesion is benign or malignant, so we must perform a fine needle aspiration to sample the suspicious lump. Since these tumours are often very small, it is difficult to puncture. In our hospital, we use endoscopic ultrasound through the stomach and visualise the lesion with the Hi Vision Ascendus to navigate safely to the target.' He also uses endoscopic ultrasoundguided fine needle aspiration for lymph nodes biopsy, where it is often very difficult to differentiate between inflamed and cancerous tissue. In this, the new machine, with its real-time tissue elastography (HI-RTE) to image tissue stiffness, serves Dr Sadik and colleagues very well. 'If there's swelling of several lymph nodes, the elastography feature helps us to choose the right node for biopsy, which is harder than the others and
therefore more suspicious for malignancy.' The Hi Vision Ascendus also supports 4D real time elastography, where volume data is captured in real-time and tissue stiffness information is transformed into images by high-speed signal processing. Asked whether he believes that elastography could one day replace biopsy, Dr Sadik is sceptical: 'A Spanish study by J J Iglesias García et. al, from 2010, investigated endoscopic ultrasound elastography in the differential diagnosis of solid pancreatic masses. It revealed that the technology shows good accuracy in distinguishing pancreatic cancer from inflammatory mass in chronic pancreatitis, but it cannot act as a substitute.'
Nonetheless, Dr Sadik is confident that interventions with the new ultrasound system will increase at this hospital in the future. It already simplifies the treatment of pancreatic cysts. 'Patients with pancreatic inflammation may develop large cysts, up to 23 cm, which must be drained if they produce painful pressure on the abdomen or if they become infected. One technique, where the new machine comes into play, is to put a stent from the stomach in to the cyst and drain it. Close-up image quality is of the main importance here to avoid the vessels during puncture.'
Since the Sahlgrenska hospital is an academic institution, Associate Professor Sadik plans to integrate the high-definition scanner more intensively in his research on different pancreatic tumour types – particularly cystic tumours, combined with endoscopic ultrasound procedures.
"The next generation in high-resolution imaging technology and elastography", Hitachi Aloka Lunch Symposium, Saturday, August 27, 12:15-13:15, Hall F 2
Riadh Sadik
In the 80s, Riadh Sadik, 47, studied medicine at Johannes Gutenberg University in Mainz, Germany, and then moved to Sweden, becoming a specialist in internal medicine, gastroenterology and hepatology. Today he is a Gastroenterology and Hepatology Consultant at Sahlgrenska University Hospital as well as for the Alingsås Hospital. In May this year, he also became Associate Professor in internal medicine and gastroenterology at the University of Gothenburg.
His research focus, among other areas, lies in endoscopic ultrasound, gastrointestinal motility and the development of a transit method for the combined measurement of gastric emptying, small bowel transit and colonic transit.