HIFU surgical ablation products gain CE Mark
St. Jude Medical, Inc. has received European CE Mark approval and US Food and Drug Administration (FDA) clearance for its Epicor LP cardiac ablation system, a second generation technology that uses HIFU (high intensity focused ultrasound) for surgical ablation of cardiac tissue to disrupt abnormal cardiac electrical impulses.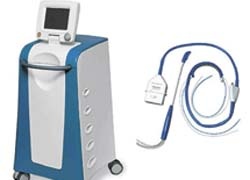 The first patient to undergo treatment with the Epicor LP System was a 73-year-old male with coronary artery disease and atrial fibrillation (AF). The procedure was performed by cardiac surgeon Malcom Dalrymple-Hay FRCS PhD FECTS, at Derriford Hospital in Plymouth, UK. The patient, who has suffered persistent AF for over three years, had a normal heart rhythm upon completion of the ablation procedure.
'An increasing volume of published literature is demonstrating the benefits of treating pre-existing AF in patients who are undergoing valvular or coronary artery bypass surgery,' explained Dr Dalrymple-Hay. 'The Epicor LP System provides a technology that is flexible enough to treat AF patients during either standard open chest procedures or minimally invasive surgical procedures.'
'In surgical ablation performed with a HIFU energy source, energy is focused from outside a beating heart. This treatment has been designed to create precise and complete lines of cardiac tissue ablation to block chaotic electrical impulses. The patient does not need to be placed on a heart-lung bypass machine nor is the heart stopped. Because HIFU energy is directed from outside the heart inward (instead of from the inside out as is sometimes the case in ablations performed with other energy sources), the risk of unintended peripheral damage is minimised,' St Jude Medical explains.
'In contrast, the traditional surgical approach requires that patients be placed on a heart-lung bypass machine with their hearts stopped while a cardiac surgeon cuts maze-like patterns in the atrial tissues and then sews the incisions to encourage the formation of lesions, or tiny scars. Surgeons may also use alternative energy sources, such as radiofrequency or cryothermy, to create lesions in heart tissue. The lesions disrupt the abnormal electrical impulses that cause AF.
'The Epicor LP system has a lower profile (smaller relative to the first generation technology) as well as other features designed to facilitate easier device introduction and placement around and on patients' hearts,' St Jude Medical continues, adding: 'The Epicor LP System is equally suited for use in both closed-chest procedures performed through a single incision, and in open-chest procedures.'
In the December 2007 edition of The Annals of Thoracic Surgery, the results of an independent investigator clinical trial led by Mark Groh MD, showed that AF is effectively treated using the Epicor Cardiac Ablation System when used concomitantly to corrective heart surgery. The investigators reported that more than 83% of all patients, followed for at least six months after surgery, were free from AF. In addition, 86% of the patients followed for at least 18 months remained free from AF. The investigators reported that there were no device or ablative procedure-related adverse events and specifically noted an absence of oesophageal, coronary or phrenic nerve damage.
The 2007 results confirmed the findings of an earlier European multi-centre trial published in the September 2005 Journal of Thoracic and Cardiovascular Surgery. The investigators in the European clinical trial reported an 85% freedom-from-AF rate at six months post-procedure - the study's primary efficacy end point - in patients concomitantly treated for AF with the Epicor cardiac ablation system.
St. Jude Medical acquired Epicor Medical in 2004 and worked closely with Dr James Cox to develop the Epicor Medical HIFU ablation system and its related surgical procedure. 'Dr Cox is the developer of the Cox-Maze surgical procedure for the treatment of AF and is acknowledged by his peers as a pioneer in the field. Since the acquisition, St. Jude Medical has been committed to improving the manufacturability and performance of the HIFU surgical ablation technology,' the company adds. The company is continuing its pursuit to expand clinical data, as well as additional tools to facilitate minimally invasive procedures, for the technology.
The first generation Epicor System gained regulatory approval for the treatment of AF in Europe in 2006. In the US, the first generation Epicor System and the Epicor LP System received clearance from the FDA for the surgical ablation of cardiac tissue but have not been indicated by the FDA specifically for the treatment of AF.
St. Jude Medical has over 12,500 employees worldwide and is headquartered in St Paul, Minnesota. The firm focuses on developing systems for cardiac rhythm management, atrial fibrillation, cardiac surgery, cardiology and neuromodulation.