News • Vertebral body replacement (VBR)
Help for cervical spine
Omnia Medical's 'Boxcar' has been granted the first US FDA 510(k) clearance for a cervical vertebral body replacement (VBR) system manufactured from PEEK-OPTIMA HA Enhanced polymer.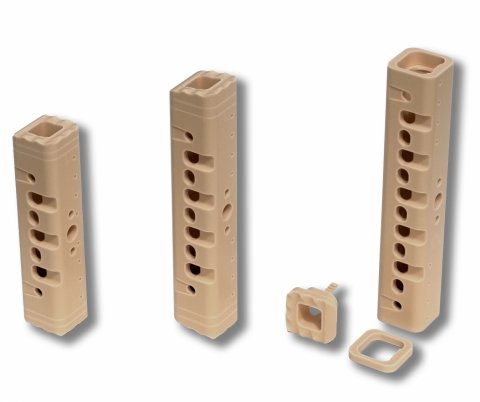 The system has been designed for use in cervical-corpectomy procedures – the replacement of a collapsed, damaged, or unstable vertebral body located in the cervical spine. Robert Gewirtz, MD - Neurosurgeon, Columbus, Ohio, collaborated on the development of the product. He says: "I see many patients that require a cervical corpectomy, and it's exciting to have such an innovative option for these patients. Boxcar is very easy to use and provides intra-operative flexibility, allowing me to dial in a VBR construct to match my patient's anatomy".
The novel single-use device is available in two footprints and allows fine adjustments of height and lordosis using spacers and endplates. It features a hollow center and holes to accommodate autograft or allograft, while encouraging the formation of new bone, and includes anti-migration features.
The system uses the enhanced biomaterial hydroxyapatite (HA), which has been shown solid fusions with dense bone apposition at 6 months and beneficial clinical outcomes for patients, revealing specific improvements in overall pain and neurological function in early clinical results.