Hearts in motion
Ultrasound is enthusiastically embraced by cardiologists in guidelines as essential for evaluating a patient's heart. Now visualisation of 3-D wall motion takes ultrasound to a higher level, opening a new understanding of heart mechanics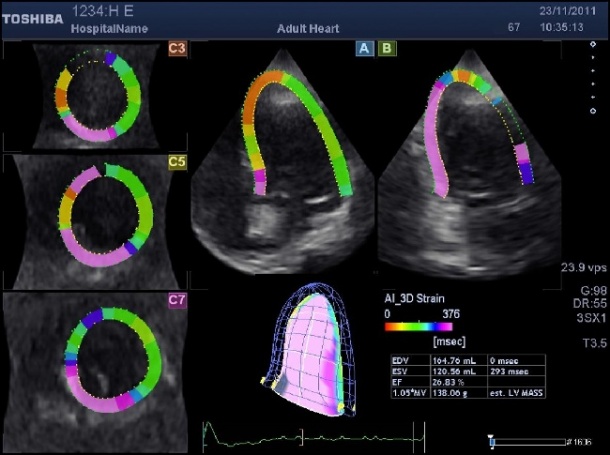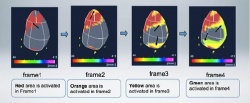 Captured in a single heartbeat with high-end CT, images of the human heart are breathtaking and suitable for framing. Which is actually a problem. For clinicians these frozen images have a limited value for diagnosis, for helping to understand how a patient should be treated. On the other hand, the truly useful images of a beating heart created by ultrasound have been impossible to understand, let alone interpret, except for a highly expert elite. Practicing cardiologist are left scratching their heads after examining scattered dots in black and white, or strange colour patterns that resemble modern art abstracts.
Thanks to the same advances in computer processing power and software that allow CT to show snapshots, ultrasound signals today can also be filtered and displayed as video-like images that cardiologists instantly recognise.
In the same way that you might wipe the fog off a window on a rainy day to suddenly see the world outside, cardiologists for the first time are looking into the workings of the heart.
Hans-Joachim Nesser MD, a professor affiliated with three Austrian university teaching hospitals, is one of the elite experts in echocardiography who can actually interpret the arcane images of two-dimensional speckle tracking and the wavy colour blotches of Doppler ultrasound.
He is also a pioneer in the emerging visualisations of 3-D ultrasound that are rapidly revolutionising the way cardiologists can diagnose a patient's condition while at the same time challenging the current understanding of how the heart works. 'The truth is that physicians like things that are easy to understand and they tend to shy away from physiology,' he said, adding that practicing cardiologists are busy working with patients and want to know how to treat that patient.
The new generation cardiovascular ultrasound, Prof. Nesser said, makes diagnosis understandable immediately: 'For the first time we can display the motions of the heart in three dimensions, in a way that is immediately understood, not just the volume but the longitudinal, circumferential or radial strain, the rotations, twists and torsion.'
One eye-catching feature of this new visualisation is the 'dancing bag', a dynamic 3-D representation of the left ventricle. 'On the surface of the ventricle you can now see the changes, or abnormalities of strain,' he explained. 'This instantly shows colour changes to identify areas where there is a problem, an area of infarction where there is reduced strain.'
Dr Nesser's current application of the new technology is for studies of myocardial ischemia, a close examination of where heart muscle has been damaged, reducing its ability to pump efficiently.
Recently Toshiba Medical Systems introduced a break-through technique called Activation Imaging, which builds on the potential of 3-D speckle tracking to study specific segments with delayed contraction or movement of the wall.
A direct application of the technology is for cardiac resynchronisation therapy (CRT) enabling cardiologists to define quickly and easily changes of delayed muscle activation or even to analyse, frame by frame, the extent of dyssynchrony.
Dr Nesser is also applying the technology for refined research of ischemia, identifying sub-endocardial infarction, areas where necrosis is less than 50% of the muscle tissue thickness, potentially providing an early indication for a vulnerability to heart attacks. 'Activation Imaging is providing cardiologists with a new parameter for assessing the patient condition at an earlier stage with a potential to influence therapy decisions,' he said
The future of 3-D speckle tracking echocardiography appears bright and its potential is clear, he added. The challenge now is to validate findings, because a gold standard for strain imaging does not exist. 'We are collecting a broad range of information making it difficult to compare those findings with other techniques. It puts echocardiography out ahead of other imaging modalities,' said Prof. Nesser. 'There is highly advanced software that can demonstrate strain using MRI, but this technique is also in a pioneering phase,' he added, and the output remains in two dimensions.
The ultimate advantage for ultrasound in cardiology, he believes, is that it is immediately available from the first office consultation with a patient to a post-procedure follow up at the hospital bedside.
To win support for motion tracking in the cardiology community, he thinks an enthusiasm as strong as the endorsement in guidelines for ultrasound in other applications will require multi-centre studies of the new technology.
'Ultrasound is increasingly giving cardiologists the ability to only intervene in patients where we have a very clear picture of what the problem is,' he said. 'Taken together with the symptoms of the patients and the clinical examination, a heart team can make a decision on treatment strategy. This is the future for cardiac patients.' Enthusiasm, he added, 'will increase with evidence.'

Profile:
Hans-Joachim Nesser MD, Vice Medical Director of the Teaching Hospital Elisabethinen in Linz, Austria, lives on the leading edge of developing technologies for ultrasound. A pioneer in speckle tracking and tissue Doppler echocardiography, he introduced 3-D motion tracking to the world in the 1990s at an Advances in CardioVascular Ultrasound and Intervention conference he had organised.
Dr Nesser is the co-editor of the Atlas of Real-Time-3-D Transoesophageal Echocardiography and has written or contributed to 363 scientific abstracts, books and supplements. A professor affiliated with universities in Graz, Vienna and Innsbruck, he also taught as an Adjunct Associate Professor of Medicine at Tuft University Medical School in Boston.