Sponsored • Specialist centre chain
HartKliniek – cardiology with a Dutch twist
Cardiology tends to be surrounded by a maze of regulations, responsibilities and red tape. Leave it to the traditionally mercantile Dutch to streamline things.
Case in point: HartKliniek, a chain of medical specialist diagnosis and treatment centres in the Netherlands which aim to transform cardiology to a more effective model – less personnel, more time for patients. We spoke with Menno and Willem Baars, members of the founding trio, about the origins of the HartKliniek and how paring down structures to the essentials can benefit patient wellbeing.
HartKliniek was founded in 2014 by CEO Menno Baars, his brother Willem Baars as COO and CMO Chris Hie. Today, there are eleven centres under the group's name located in Almere, Amsterdam, Den Haag, Dronten, Groningen, Hoorn, Lelystad, Nijmegen, Vlaardingen, Oisterwijk and Zandvoort, with 20 cardiologists employed. In 2019, more than 20.000 patients were treated, with an expected growth to 30.000 in 2020. The goal is to establish several locations in each of the 12 Dutch provinces to support the notion of 'bringing cardiology to the neighbourhood'.
Cardiologists stretched to the max
The fundamental idea behind HartKliniek is surprisingly old-fashioned: paying more attention to the individual patients. One evening, at the end of his working day at the hospital, cardiologist Menno Baars was fed up with spreading his working hours across 50 patients – clearly too many to treat with proper diligence in an eight-hour shift. Excessive time pressure had led to the fact that frequently, he observed, the correct diagnosis was not made during the first work-up and the cardiologists had to see the patients several times, observed. To fix this issue, Baars founded HartKliniek.In the HartKliniek centres, cardiologists are assigned a maximum of 15 patients per day, leaving considerably more room for thorough diagnosis, treatment and taking time to attend to the questions of each individual.
A good doctor must listen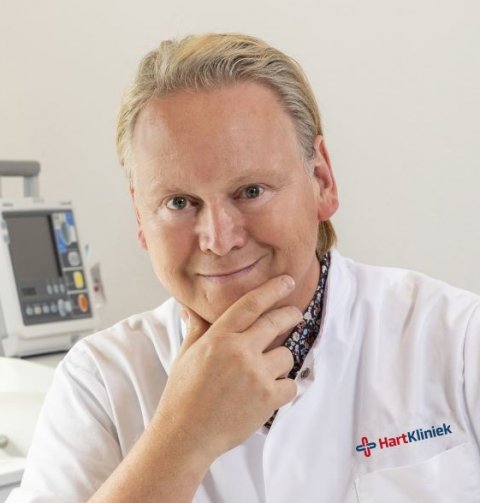 This opens up opportunities to perceive a patient as more than just a collection of medical parameters with a malfunctioning part of their body's machinery. 'In many cases, you have to dig deeper to see where heart problems have their roots,' Menno Baars points out. 'To be a good doctor to your patients, it's essential to listen,' adds cardiologist Bettina Massaar-Hagen. In this regard, HartKliniek just might fill a gap that has been present in cardiac care for far too many years.
The concept of paying more attention to patients especially appears to strike a chord with the female population, the COO notices. Women appreciate doctors who put greater emphasis on communication rather than just performing the required examinations. Taking this into account, a more precise diagnosis can be established in female patients, since the symptoms caused by cardiac problems can differ greatly between sexes.
It is not rocket science to figure that treating fewer patients in the same time would generate less money. Thus, financing such a concept proved challenging – but the founders came up with a solution: By trimming management layers, medical assistants, nurses, expensive equipment and other redundancies, the centres are able to operate profitably. This means that the cardiologists themselves have to do tasks that are normally delegated to other staff: anamnesis, consulting with the GP or performing the actual examinations. This approach is well-received by the patients, as positive feedback shows. The HartKliniek centres boast top scores in patient satisfaction across the whole Netherlands, Baars states – not a mean feat in an area where many heart patients tend to faithfully stick to their trusted doctor rather than turning to a relative newcomer.
GP, hospital and the HartKliniek makes three
The centre's profile is further sharpened by adhering to low-complexity procedures. Emergency or open-heart operations are not performed. Patients in need of stents, ablation or a bypass are referred to the respective specialists in the surrounding institutions. This is also beneficial for the bigger hospitals as they can concentrate on more severely ill patients without less complex cases burdening their perpetually busy schedules. With this approach, the HartKliniek acts as the missing link between primary care at the GP and highly specialised cardiology departments of hospitals. This interplay between healthcare providers works due to a well-maintained network that aims to assign the patients to the institution that best fits their needs through referrals in both directions.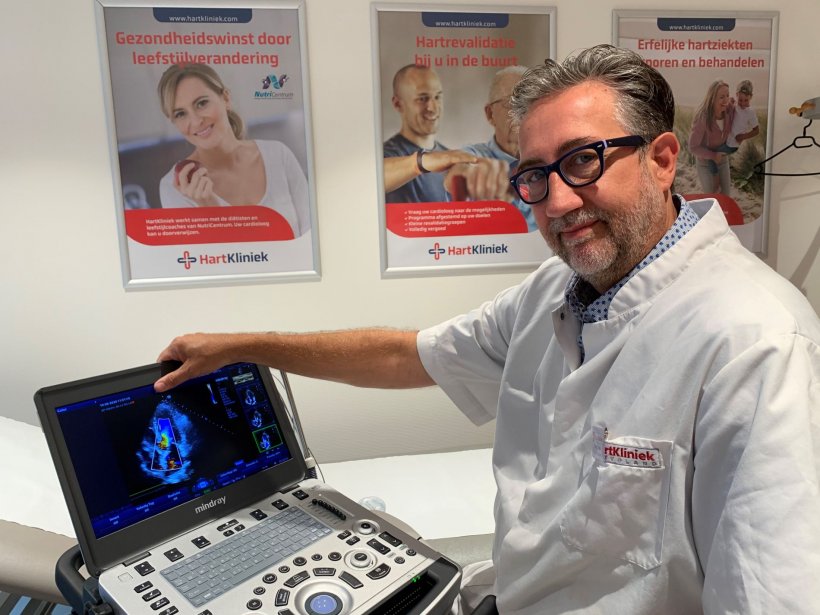 Chinese-Dutch collaboration in ultrasound
For diagnostic work-up and patient monitoring, the HartKliniek centres rely on ultrasound systems from Mindray. 'Coming a bit from outside ourselves, we wanted to go with a company not yet as well-established in the Netherlands,' says Willem Baars explains. 'After comparing several systems, we decided to equip our centres with M9 portable ultrasound systems from the Chinese manufacturer.'
20 Mindray systems are now installed across the centres. Pivotal features were high resolution displays as well as the capability to configure the devices to perfectly fit cardiologists' requirements. At the HartKliniek centres, the Mindray systems are used for 2-D echocardiography, Doppler exams, carotid IMT measurements and diagnosis of mitral valve abnormalities, says Massaar-Hagen. "We aren't yet doing 3-D echocardiography exams.'
This led to a fruitful partnership between Mindray and HartKliniek; while the patients benefit from the advanced imaging possibilities provided by the Mindray ultrasound systems, the cardiologists give valuable feedback to the company to further gear the systems towards applications needed in the cardiology setting. The digital backbone is a DICOM PACS which serves as a platform for the images generated. The ability to share image data across the HartKliniek centres and with external hospitals enhances the cooperation between the institutions and saves time and money by reducing unnecessary repetition of ultrasound exams.
Profile:
Menno Baars is founder and CEO of HartKliniek, a chain of specialist medical diagnosis and treatment centers for cardiovascular diseases in the Netherlands. Born in Utrecht, Baars obtained his medical degree at the University of Utrecht and Harvard Medical School in Boston, USA. After gathering practical work experience as a general cardiologist in hospitals during for almost 20 years, he started HartKliniek in 2014. Along his medical expertise, Baars is also an internationally renowned artist with his paintings being displayed in worldwide art exhibitions.
More on the subject:
More on companies: