Goodbye to needle­stick injuries
All hospital professions can be affected by injuries resulting from cuts and needlesticks, whether they are doctors, nurses or cleaners.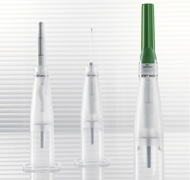 The risk of infection is high – an accidental jab from a needle from an infected patient has a 30% probability of infection in the case of Hepatitis B, a 3% risk for Hepatitis C and, in the case of HIV, the risk of transmission is still 0.3%
Raising awareness of infection prevention has progressed in recent years. At best, the time spent on ensuring the highest possible protection against needlestick injuries should generally be cut down to a bare minimum.
Active awareness and consideration should preferably be replaced by automated mechanisms – passive rather than active safety!
The latest product development at Greiner Bio-One, the VACUETTE Tube-Touch Safety System, meets this high standard, the firm reports.
The big advantage of this passive safety product compared to conventional products is that the activation of the protection mechanism does not require additional manual handling. Activation is automatic during blood collection. The unique safety needle is already integrated into the blood collection holder. Inserting the blood collection tube into the holder activates the safety shield without manual activation by the user.
The process
The tube is inserted into the holder. Pressing the tube cap into the rear part of the needle automatically activates the safety shield. It moves towards the front and is in light contact with the patient's skin. After activation, the safety shield also remains flexible. The safety needle is then closed by a spring mechanism when removed from the vein.
Taking blood samples can be carried out as normal; there is no need for additional steps – to the contrary, the company explains, specially positioned grips on the holder ensure a flatter venipuncture angle and recesses for finger placement improve ergonomics. A special bevel design minimises patient discomfort and the position guide on the safety shield even visualises the depth of penetration.
The automated activation provides maximum safety even in case of interruption or abrupt termination of blood collection. The blood collection set, which is ready for use quickly, consists of the needle, tube holder and safety shield, and the entire set is always disposed of as a whole.
'The system is easy to use, offers the highest level of comfort and reduces the risk of infection caused by needlesticks to a minimum,' the manufacturer concludes.