News • Infection control
Global opportunity to tackle antibiotic production waste
As leaders gather for the International Ministerial Conference on antimicrobial resistance (AMR), hosted by the government of The Netherlands and organised in close cooperation with the FAO, OIE and WHO, experts and responsible manufacturers are calling for a 'One Health' approach to AMR and recognition of the impact of antibiotic production on the environment.
"With two thirds of the worlds rivers now known to be polluted with unsafe levels of antibiotics, discussions on AMR should be addressing this issue. Alongside antibiotic stewardship and infection control we need to see regulation regarding emissions into our rivers. Many of the resistant genes we see in human pathogens originate from environmental bacteria, suggesting that environmental pollution can drive the evolution of resistance, avoidably accelerating AMR", says Professor William Gaze, a microbial ecologist who studies antimicrobial resistance at the University of Exeter in the UK.
Recommended article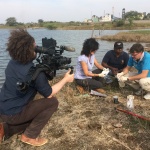 Article • Fighting infections
Multidrug-resistant organisms (MDRO) are keeping infection specialists worldwide on their toes. One of these specialists travelled all the way from Leipzig to India to gain insights in one of the sources of the problem.
A Netherlands-based, global manufacturer of antibiotics, Centrient Pharmaceuticals who are welcoming WHO experts and international delegates from the ministerial meeting at their sustainable production facility today, hope the visit and the ministerial meeting will raise awareness of the issue and help drive ministerial support for cleaner and more sustainable production of antibiotics. "We aim to highlight to ministers that sustainable production is achievable and needs to be recognised as one of the three principles in the fight against AMR", commented Karl Rotthier, CEO, Centrient Pharmaceuticals.
The three principles in the fight against AMR:
TAKE antibiotics only when needed and exactly as prescribed (by patients)
MAKE antibiotics in a sustainable way by adopting emission targets (by manufacturers)
BUY antibiotics only from responsible sources to ensure a clean supply chain (by procurers)
We hope that the WHO meeting will result in closer scrutiny of the environmental impact of some outdated production processes by governments, policy makers and purchasers

Karl Rotthier
There are several potential sources of antibiotics in the environment including from patient (human and animal) use and excretion, agricultural use and run-off and from the processes used to manufacture antibiotics.
Research published last month showed that in a study of 711 rivers and waterways in 72 countries around the world, 65% had antibiotics present. The drugs find their way into rivers primarily via human and animal waste but also from some drug manufacturing facilities. Concentration levels vary wildly from the Danube in Austria where antibiotics were found to be four times the safe levels to Bangladesh, where waterways were discovered with 300 times the safe levels.
During the process of antibiotic production and the production of ingredients required to make antibiotics, wastewater is created which if not treated leads to residual antibiotics entering the environment. In turn, this allows bacteria to become resistant, exacerbating the issue of AMR and accelerating the decline of the drugs' usefulness. Inadequate waste management at antibiotic manufacturing facilities is unsustainable and a contributor to the growing AMR crisis, there is currently no major focus on the issue in the WHO Global AMR Action Plan.
A recent report by the Access to Medicine Foundation highlighted that 15 of the largest pharmaceutical manufacturers have some form of an environmental risk-management strategy that aims to minimise impact of antibiotics discharged from manufacturing processes. However, only 8 companies have already set limits on antibiotic discharge in wastewaters. Moreover, globally, there is still a huge disparity in the concentration of antibiotics found in waste effluent. In a bid to reduce this disparity, the AMR Industry Alliance, one of the largest private sector coalitions set up to provide sustainable solutions to curb antimicrobial resistance, has published a manufacturing framework for antibiotic production which describes environmental management practices necessary to ensure good environmental control at manufacturing sites. Additionally, the Alliance has published a ground-breaking "safe" list of discharge targets to help guide environmental risk assessments for the manufacture of antibiotics
'The industry is making good progress in terms of reducing waste and we hope that the WHO meeting will result in closer scrutiny of the environmental impact of some outdated production processes by governments, policy makers and purchasers resulting in the production, purchase and use of sustainably produced antibiotics" adds Karl Rotthier.
Source: Centrient Pharmaceuticals