Chemistry & immunochemistry
Fujifilm Wako – Autokit CH50 Assay
Autokit CH50 Assay is an in vitro diagnostic (IVD) test for the quantitative determination of total complement activity in human serum.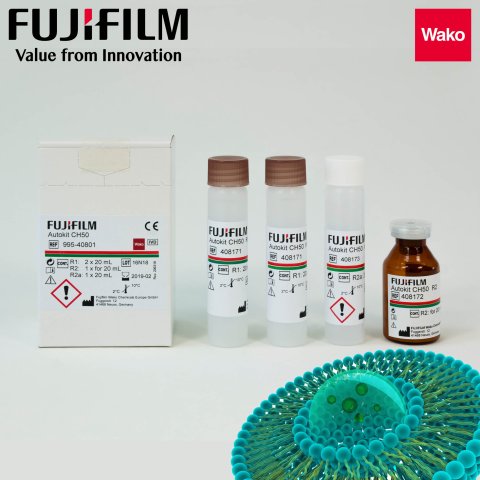 The complement system is a part of the immune system that enhances/complements the ability of antibodies and phagocytic cells to clear pathogens from an organism.
Complement activity in human sera can provide important information in the diagnosis of many diseases. Clinically, the measurement of complement activity is a direct indicator of abnormalities of the complement system and differs from immunoreactive components of the system. Complement activity has been correlated with the active stage of systemic lupus erythematosus, rheumatoid arthritis, cryoglobulinemia vasculitis, some forms of nephritis and inherited deficiencies of the complement system.
Autokit CH50 Assay is an automated liposome-based assay (LIA) for total complement using a homogeneous population of small-size liposomes (200 nm).
More on the subject:
More on companies: