News • R-One robotic platform
First robotic coronary angioplasties in humans
Robocath announces the success of its first two coronary angioplasties performed with assistance from its R-One robotic platform. The procedures were performed in France at Rouen University Hospital by Professor Durand and Professor Sabatier and at Clinique Pasteur in Toulouse by Doctor Fajadet.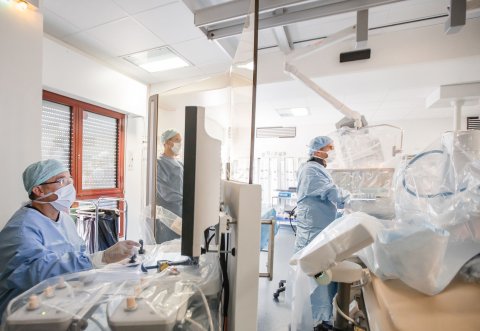 R-One assists interventional cardiologists in performing coronary angioplasties. The robotic platform is designed to facilitate and enhance interventional procedures performed for the patient and offers a better working environment for physicians and the entire medical team.

This prospective clinical study is the first of its kind to be conducted in Europe. It involves six European centers, three of which are based in France (Rouen University Hospital, Caen University Hospital, Clinique Pasteur in Toulouse). The study will involve 60 patients and aims to demonstrate the safety and efficacy of the robotic-assisted platform R-One™ in coronary angioplasties.

Dr Philippe Bencteux, president and founder of Robocath, says: "These two successes mark a new era in the way interventional cardiology is practiced in Europe today. It is a project we have worked on for several years and the entire team and I are extremely proud of the success of these two procedures."

Professor Eric Durand, interventional cardiologist at Rouen University Hospital, comments: "I feel particularly privileged to have been given the opportunity several years ago to participate in this project and to now arrive at this first procedure in a human with excellent results."

"I am delighted with the success of these procedures. It is rewarding to see Rouen University Hospital continuing to support cutting edge innovations in the medical sector, nearly twenty years after conducting our first aortic valve implantation in the same operating room," says Alain Cribier, Professor Emeritus in Interventional Cardiology and Inventor of TAVI (Transcatheter Aortic Valve Implantation).
Recommended article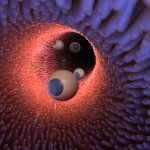 Video • Drug delivery, microsurgery
Targeting medical treatment to an ailing body part is a practice as old as medicine itself. A Band-Aid is placed on a skinned knee. Drops go into itchy eyes. A broken arm goes into a cast. But often what ails us is inside the body and is not so easy to reach. In such cases, a treatment like surgery or chemotherapy might be called for. A pair of researchers in Caltech's Division of Engineering and…
Dr Jean Fajadet, co-director of the Interventional Cardiology Unit at Clinique Pasteur in Toulouse, continues: "I am very happy with the success of these procedures and confident regarding the study results. We are on the cusp of a major revolution in the field of interventional cardiology, thanks to the possibilities opened up by vascular robotics that we are developing at Clinique Pasteur."

Professor Rémi Sabatier, interventional cardiologist at Caen University Hospital, adds: "It was an honor for me to participate to this first robotized angioplasty. I'm delighted to share the joy of the teams who accompanied us on this adventure, which I'm looking forward to continuing at Caen University Hospital."

Lucien Goffart, CEO of Robocath, concludes: "It is a French success story that has been supported by all of our employees and by highly invested medical and technical teams, to whom I would today like to extend my warmest thanks and congratulations. It is a crucial step in our development and one that will pave the way for a transformation of the sector. This transformation involves all of the players in the industry and inevitably leads us to think about this industry in broader terms, thanks to the new possibilities offered by robotics, particularly in terms of the interoperability of equipment."