First PC dictation products available for Linux operating system
With the new Linux software development kit (SDK) Royal Philips Electronics introduced the first solution to integrate their SpeechMike products into a Linux operating system.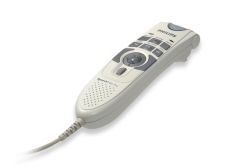 The integration enables healthcare organizations to control SpeechMike functions – such as 4 position slide switch, function buttons, trackball, LED, sroll wheel and barcode information – within the Linux system.
With this development the company responses to the need of end users for which the ability to have professional dictation solutions that can easily be integrated into an existing Linux system without the usual costs is essential. SDK is a cost-effective solution that can lower costs in the field of IT infrastructure, support and maintenance.
For further information please look at www.philips.com/dictation
More on the subject:
More on companies: