First implantable ventricular assist device for long-term use in development
Every fourth patient suffering from an irreversible heart defect and due for a heart transplant dies while waiting for a donor organ despite the use of extracorporeal blood pumps. A new ventricular assist device (VAD), currently under development at the German Aerospace Center (DLR), promises a new approach to help these patients. The fully implantable heart support device might be an effective method to bridge the waiting period.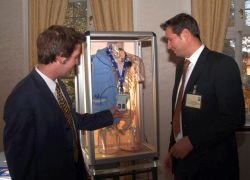 Thomas Schmid and Bernhard Vodermayer of the Institute of Robotics and Mechatronics at the German Aerospace Center used innovative robotics systems for medical technology purposes. "We developed DLR-VAD to provide an alternative to current blood pumps that often cause thromboses and catheter-related bacteraemia. The components we developed fulfil highest quality standards and are reliable in long-term use. Our VAD has a life span of up to five years which means it can be used much longer than any other current device to support patients with severe heart insufficiency. Today, existing therapy options are less than adequate", explained Dr.-Ing. Thomas Schmid at the symposium "Biomaterialien – Prothetik und intelligente Implantate" organised by Forum MedTech Pharma e.V. in Würzburg, Germany.
The modular DLR system may be used with different adapters both as a left-ventricular and a bi-ventricular assist device (BiVAD). The developers are particularly proud of the innovative pump function: Unlike conventional single chamber units, the DLR implant has two elastic chambers that are compressed in turn by a pressure membrane. "This construction of ventricles and chambers produces a pulsed blood flow which is very similar to that in the left ventricle. In our fluid mechanics labs we conducted measurements using Particle Imaging Velocimetry (PIV). The blood is being carefully pumped through the implant without causing haemolysis", Schmid continues.
Since the compact heart assist systems weighs only 300 g it can be fully implanted. The patients can be discharged from the hospital and lead a normal life. "The implanted energy reservoir allows for independent operation of up to six hours before it has to be recharged", says Bernhard Vodermayer. The researchers at the German Aerospace Center developed a dedicated transfer system: DLR-TET. "The energy is being transmitted via a flexible copper coil implant. CoilPos is a positioning support system which helps the patient to recharge the system trancutaneously. The physician can call up data and optimize the therapy via a Bluetooth connection", Vodermayer adds.
To date, the DLR-VAD has been tested only in animals. Without problems it supported the animal heart in acute experiments with a cardiac output of 8 l. At an average heart rate of 105 bpm the average pump performance was 5.8 l/min. For human use, two identical models with two different pump volumes (54 ml or 72 ml) are envisaged. "First long-term trials are being planned. Before we can launch the product we want to integrate updated electronics, reduce the size of the implant and modify the surface to enable cell population. In the future, the DLR-VAD might well serve as a long-term bridge until the implant is available. Thus it would be an effective therapy option for many patients", Schmid concludes.