First CAD system for the diagnosis of neurodegenerative disease
The University Medical Center Hamburg Eppendorf (UKE) is currently undergoing a clinical evaluation with the first MRI/PET image software tool for the diagnosis of neurodegenerative diseases that should support clinicians in diagnosing the onset and type of diseases as early as possible.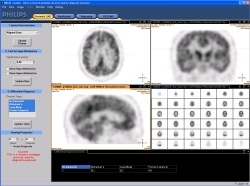 The CAD system was developed by the UKE in cooperation with Royal Philips Electronics and has already proven its accuracy using historical image data and known patient outcomes. It automatically interprets PET brain scans of patients suspected of having a neurodegenerative disease that leads to dementia, and combines them with MR scans for accurate differential diagnosis. Because of the early detection of neurodegenerative diseases, drugs can be prescribed in an early stage and the progression of the disease can be delayed. Moreover, it will provide pharmaceutical companies and clinicians with a valuable tool for the development and testing of new, potentially curative drugs for e.g. Alzheimer.
The software tool accurately overlays anatomical images of the brain obtained from MRI scans with PET scans that display brain activity – specifically the uptake of glucose that fuels brain activity. By using advanced image processing and computer learning techniques in combination with a database of reference scans, the system then analyses the images automatically and displays anomalous brain patterns in a concise way. Based on these patterns, the system then suggests a diagnosis.
More on the subject:
More on companies: