First approved blood pool contrast agent
Gadofosveset trisodium (trade name: Vasovist) is the first approved blood pool contrast agent worldwide for the diagnosis of vascular disease, Bayer Schering Pharma AG reports.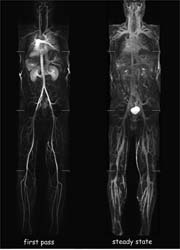 'This innovative agent for use in magnetic resonance angiography (MRA) is unique among MR contrast media due to its capacity to prolong the diagnostic window for up to one hour. This characteristic is attributable to its ability to bind reversibly to serum albumin. Thus, gadofosveset has a much higher relaxivity and longer residence time in the blood than conventional extra-cellular agents. It is therefore not only suitable for conventional first-pass imaging in the arterial phase, but also provides brilliant ultra-high resolution MR images of blood vessels in the steady-state phase.'
In 2005, this product was approved for use in abdominal and peripheral MRA in the EU, Canada and Australia, and, in 2006, for whole body MRA in Switzerland.

From the Department of Radiology at the University of Bonn, Germany, Dr Winfried Willinek has reported obtaining MRA images with very detailed information of vascular structures, particularly in the periphery, when using this contrast agent. 'Significantly more vessel segments are depicted on ultra-high resolution steady-state images with gadofosveset, compared with the standard technique alone. This helps to guide interventions and may improve patient management especially in the critical patient in whom we need to identify more distal vessels that are potentially suitable for distal origin bypass surgery.'

The manufacturer adds that the contrast agent - which can be used for both dynamic and static imaging - might also open up new opportunities in MRA. 'The blood pool agent provides homogeneous contrast in both arteries and venous structures. According to Dr Joachim Lotz, a radiologist at Hanover University Clinic, venous imaging is reliable, easy to use and of a consistently high quality. The reliability of the venous contrast produced is also the single most important aspect for diagnosis and for planning surgical or interventional procedures, especially in cases with highly pathologic venous alterations. Gadofosveset may, moreover, expand the potential of MRA in the detection of pulmonary embolism (PE) following deep venous thrombosis (DVT), a common and potentially life-threatening disease.'

At Grosshadern University Clinic, Munich, Dr Christian Fink explained: 'Following a single bolus injection the lungs can be dynamically imaged during first pass to assess perfusion of the lung. High spatial resolution pulmonary MR angiography during the steady-state also allows the detection of the embolus in the lung.' Finally, Bayer Schering points out, the diagnostic workup can be completed with MR venography of the whole body. The source of an embolus arising from an underlying deep vein thrombosis can be confirmed or excluded within one and the same examination.

Radiologist Professor Marco Essig, at the German Cancer Research Centre (DKFZ), Heidelberg, added: 'I see a great potential in the use of gadofosveset for MRA of supra-aortic and cerebral vessels.'

Steady-state imaging with gadofosveset displays relatively large anatomical areas with an excellent spatial resolution in the sub-millimetre range, whereas cerebral MRA with conventional extra-cellular agents can only be performed in about 30 seconds during first pass and with a substantially lower spatial resolution, the manufacturer points out. 'Moreover, gadofosveset-enhanced MRA is much less invasive than conventional angiography or computed tomography angiography (CTA).'

According to Professor Regina Beets-Tan of Maastricht University Hospital, Netherlands, the contrast agent might also prove useful in distinguishing malignant from benign lymph nodes in colorectal cancer, which no other contrast agent has been able to do yet.
More on the subject:
More on companies: