Sponsored • Perfect illumination aids diagnosis
Find the right light
ACEMST1, a new flexible medical LED light from the Italian manufacturer ACEM, has an illumination suitable for diagnoses in dermatology, general medicine, gynaecology, and dentistry – and can even be used as a bedhead light.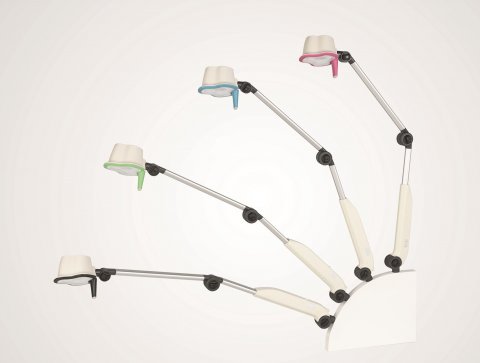 The manufacturer also reports that this compact lamp ensures excellent light intensity, an IR-free beam, variable colour temperature (CCT), a high colour rendering index (CRI), low power consumption, and long life. The lamp comes in different colours and is also reported to be easy-to-clean and disinfect, as well as easy to move, with wide rotation and movement range. Also, once positioned, the double balancing system assures stability and accuracy, the firm adds.
A wall extension arm, ceiling, wall, table, rail, or trolley mountings are also available.
The two models: ACEMST1.1 and ACEMST1.3 both provide touch control panels, but the latter also benefits from on/off Gesture Control. Both have light intensity adjustment, but the 1.3 modelalso provides stepless colour temperature adjustment (from 3,500 K to 5,500 K).
ACEM is at Medica
Hall 10 / Stand B60