Financing State-of-the-Art Technology
By Cynthia Keen
Hospitals concerned about the accuracy of utilization predictions of new diagnostic imaging equipment will be interested in pay-per-use financing that is being offered by global vendors. Eric-Jan Rutten, General Manager of Professional Healthcare Solutions of Philips Healthcare International in Eindhoven, Netherlands, described the approach that Philips takes with both large and very small hospitals to partner with and share the risk of expensive modality installation.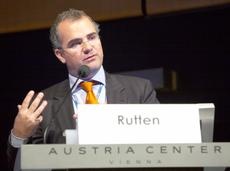 Philips' pay-per-use model is based upon actual patient volume. This enables a hospital that does not have the capital funds available to acquire the technology, even if this requires construction of a new radiology room or expansion of the hospital's facilities. In this situation, the vendor owns the equipment, but concern about owning obsolete equipment is eliminated.
Operating costs, software and hardware upgrades, and management of the IT infrastructure that supports technologies like hospital information systems and PACS usually costs at least twice the amount of the capital acquisition over the life of the product. It also may be difficult to recruit the specialized support staff required. Mr. Rutten said that hospitals may find it less expensive to outsource technology management and eliminate technology obsolescence issues with a managed service agreement, starting with a six year commitment.
The vendor partner should be willing to provide and manage equipment from multiple vendors in this type of agreement, Mr. Rutten said. There also should be flexibility built into the contract so that there is flexibility in changing new equipment requirements within the time span of the contract. The advantage of outsourcing is that all costs are treated as operating expenses, downtime is minimized, and a hospital will be able to benefit from a consistent guarantee of available technical specialists and other staff experts that a hospital may need on both an occasional and full-time basis.
More on the subject:
More on companies: