Article • Accelerating the pace of development
Fighting the pandemic with microfluidic
The Corona pandemic has a major impact on all areas of life. Nearly everyone is affected in some way – in their health, in their jobs, in their entire lives. But there are also notable bright spots.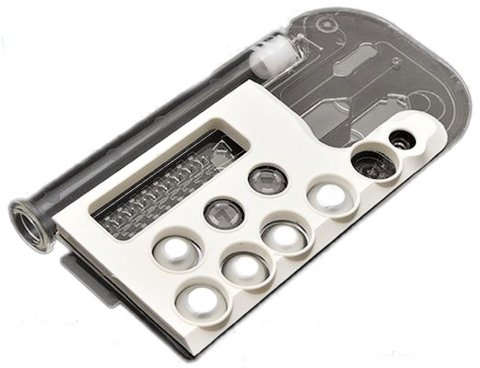 Chief among these effects is the rapid development of vaccines, test kits and, in the future, medicines that are making a significant contribution to overcoming the crisis. Microfluidic components in particular are capable of significantly accelerating the pace of development.
Microfluidic components allow a large number of experiments to be performed rapidly in what is known as high-throughput screening (HTS). This makes it possible to realise a large number of tests in a very short time, for example to test the efficacy of drugs or vaccines on living cells. The speed and accuracy of the tests is achieved, among other things, by the microstructures, which allow much better control of the physical and chemical parameters (e.g. temperature, pressure, reaction time). Another advantage of these small structures is the small amount of sample required and the economical consumption of reagents.
In recent months, new products and drugs have been developed in a very short time. This would not have been possible without microfluidic devices. Devices and components such as lab-on-a-chip, mobile diagnostic devices or chemical microreactors are already helping to fight the pandemic.
Covid-19 and the very rapid development of effective vaccines have put the focus on microfluidics and affiliated topics. It is now impossible to imagine medical technology without microsystems that can safely handle the smallest quantities of liquids and gases.