Exposanita 2006
Bologna, Italy - With 670 exhibitors - 595 domestic and 78 international companies from 18 countries as well as 344 represented companies from 36 countries - and close to 28,000 visitors, the medical event Exposanita was, once again, a huge success.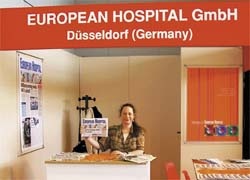 With Dusseldorf-based Medica, and Paris-based Hopital Expo-InterMedica leading European medical venues, Exposanita has become Europe's third biggest medical trade fair. Over four days state-of-the-art medical technology was presented on about 31,000 square metres of exhibition space. The event, however, is more than a mere trade-oriented product showcase as the impressive programme with about 120 workshops, seminars and conferences proved.

The hall on Medical Innovation Technology (MIT), where nanotechnology, innovative materials, biotechnology and the newest developments in diagnostics were presented, was a particular attraction. There was also high interest in diagnostics, therapy and nursing on the one hand and handicaps, orthopaedics and rehabilitation on the other. As in 2005, visitors gained a comprehensive overview of technologies, equipment and services offered by the Italian healthcare industry.

The European Hospital team, including our representative in Italy, Denise Fries, gleaned information on state-of-the-art technology, including the Italian products and services. In addition, countless visitors collected our most recent issue of European Hospital.