EuroMedLab 2013
Milan, Italy – The 20th European Congress of Clinical Chemistry and Laboratory Medicine certainly lived up to its claim as the EU's largest event of its kind – 2,407 visitors and 4,786 delegates from 101 countries plus 82 exhibitors fanned out or arranged themselves over the event's 3,500 square metres, Hanna Politis reports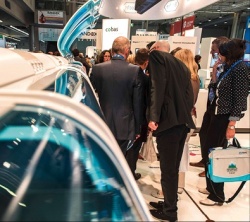 More than 200 speakers presented technological advances that have resulted in detailed diagnostic findings for numerous diseases, among them the pattern of biomarkers that characterise diseases such as breast cancer or diabetes mellitus on a molecular level. This is made up of many different simultaneous measurements, which, thanks to new technologies, can be obtained with far more information than was available just a decade ago.
Also put forward: if a sufficient number of biomarkers is put into a meaningful context, diagnosing and treating a certain disease in a specific individual will become easier, safer and more precise, also bringing financial/budgetary benefits.
In addition, complete labora­tory automation through integrated robotics and IT solutions show that lab processes can be simplified, manual activities reduced and patient safety increased. Discussions also showed that, helped by intelligent robotics, new systems can automatically prepare blood samples for immediate analysis and post-analysis processing. The risks of mix-ups with samples or contamination through manual handling by laboratory staff are reduced. Short and predictable cycle times also mean faster clinical decisions.
Cancer also can be ever more specifically diagnosed, with laboratory medicine enabling individual treatments. Tests are increasingly non-invasive and free of undesired side effects, and results can be evaluated more quickly. Future health risks, such as those for breast cancer or diabetes, can be detected through blood tests. Experts agree that evidence-based laboratory medicine should be in­tro­duced quickly to medical practice.