Elastography - ready to go
The idea of measuring tissue stiffness using ultrasound is nothing new. But lately the field sets a rapid pace. "Real-time, hand-held elastography is now a commercial reality," asserts Jonathan Ophir from the University of Texas Medical School.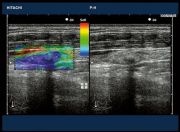 Who has been to the symposium on ultrasound imaging at the 50th Annual Meeting of the American Association of Physicist in Medicine in Houston, Texas, could have heared him say those words. Jonathan Ophir took deep breath and started with a sweeping blow about tissue elasticity measurements.
"Many pathological changes are associated with changes in tissue stiffness," Ophir explained. And with some isoechoic lesions (certain prostate cancers, for example) stiffer than surrounding tissue, "you can see things that you don't see otherwise." To make his point clear, he presented in-vivo songrams and elastograms. Both of them shown the same breast cancer lesion – but: In the elastogram the lesion appeared obviously lager. "Nobody has proved this yet, but we think it's due to scar formation around cancers that's not typical for benign disease. This could be used as a sign for cancer," he explained.
Elastography, so far, provides serveral additional information – for instance by imaging shear strains at tissue boundaries. And indeed, it is known that tumours and certain inflammatory conditions can lead to tissue hardening and loss of elasticityIn. Ophirs next example, he compared the shear strains of breast carcinoma and fibroadenoma. In the benign case, the areas showing the greatest shear strain were tight up against the lesion/tissue boundary, as viewed in a standard ultrasound image
In the carcinoma, however, these areas appeared much further from the boundary, possibly due to the aforementioned "scarring" effect. The high-shear-strain areas were also much larger in this case, assigned to the fact that cancers tend to be more strongly fixed between the surrounding tissue layers. "Shear strain may be able to tell us if a lesion is benign or malignant and where the lesion boundaries are," Ophir explained
He also cited imaging of the Poisson's ratio of tissue, and its evolution over time, as another possible development. Poisson's ratio can be calculated by measuring both the lateral and axial strains, and can be used to study the behaviour of poroelastic tissue (an elastic matrix containing fluid) and to provide information on fluid flow in tissues affected by diseases such as lymphoedema (swelling caused by an abnormal collection of lymph in the body tissues).