EKF Diagnostics launches a new low cost POC HbA1c analyser
EKF Diagnostics, a worldwide manufacturer of point-of-care (POC) in-vitro diagnostic devices, has announced the European launch of its Quo-Lab POC HbA1c analyser.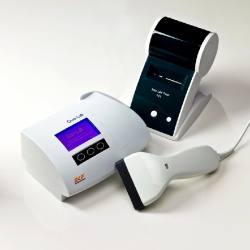 This new semi-automated analyser is CE marked and provides highly accurate, affordable and easy-to-use technology for surgeries, diabetes clinics and laboratories. HbA1c monitoring is increasingly used in the detection and management of diabetes, and Quo-Lab is designed to meet the needs of economies where diabetes is an increasingly large public health issue and resources are limited.
The new analyser is manufactured by EKF subsidiary Quotient Diagnostics Ltd and uses the unique Boronate Affinity Florescent Quenching method perfected in its Quo-Test HbA1c analyser. Requiring just 4 µL of venous or finger prick blood, the small and lightweight Quo-Lab delivers lab-accurate results within four minutes. The analyser is highly cost effective and user friendly; its simple 4-step procedure requires minimal training, with on-screen instructions available in a variety of user selectable languages.
Quo-Lab will be demonstrated at Medica 2012 in Dusseldorf, Germany (14-17 November) by Dr Gary Dowthwaite, Product Manager for Diabetes products in a series of free mini-seminars on the EKF Diagnostics stand (Hall 3 C70). To book your free place, email info@ekfdiagnostics.com. An online video demonstration of Quo-Lab is also available at www.ekfdiagnostics.com.