ECG machines from China
Comen Medical instruments Co. Ltd, which manufactures a range of advanced ECG machines, is showing its CM1200 12-channel ECG machine with 12.1" fold-up colour TFT screen, which provides a more comfortable multi-angle observation, the firm reports.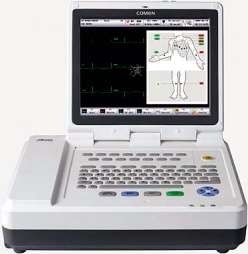 'A special touch screen and hand-writing pen enables easier operation control and quicker information input. The machine is designed with carry handle, alphanumeric keyboard, built-in Lithium battery, and various function extension ports. It has multi-language interfaces, leads status diagram, printing preview, diagnosis result edit and multi-size recording paper selectable features, etc.
'The machine's interpretation function can analyse over 200 different patient cases. Its intellectualised recording calibration system can completely solve ECG paper jam, paper deflection problems.'
With its advanced information-based solutions, CM1200 can realise paperless reporting, on-screen diagnosis and long-distance diagnosis, the firm adds. 'It can transfer the data via USB or make a direct A4 paper printout by USB printer. It can also support an ECG work station, HL7 protocol, HIS and PACS system for more convenient sharing of ECG data with different hospital departments.'
Details: www.szcomen.com
Shenzhen Comen Medical instrument Co. Ltd, Medical hall 17, stand A05