Touch screen cardiopulmonary diagnostics
Schiller reports that its new range of touch screen ECG systems combines precision performance and attractive ergonomics. With a touch to the large, high-resolution colour display, 12-lead ECGs and pulmonary function tests can be recorded, selected and printed in seconds.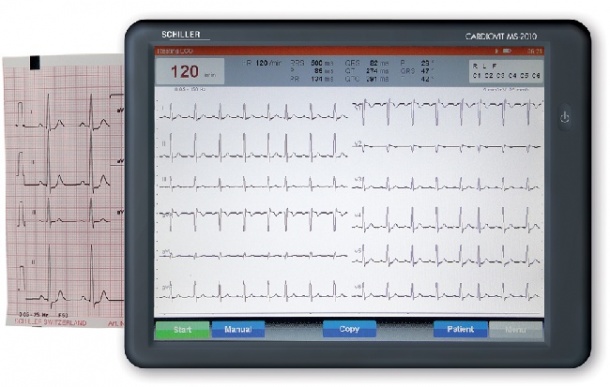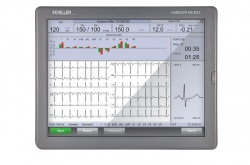 'Both ECG systems are designed for resting ECGs as well as spirometry, whereas the MS-2015 is equipped with a larger screen and will soon be complemented with exercise ECG,' the company points out, adding: 'Full connectivity to EMR systems and the SEMA-200 ECG management system enables streamlining ECG workflows and improving efficiency. The MS-2010 and MS-2015 both simplify diagnostic ECG interpretation by delivering high-quality clinical analysis reports for thrombolysis within seconds whenever and wherever needed.'
Patient data management, Schiller reports, has been improved by:
• Onscreen review of ECG to save paper and prevent costly ECG repetitions
• Export of ECG records in XML, DICOM or PDF format via SCS (Schiller Communication Server)
• Automatic storage, transmission and printing of resting ECG data
• Barcode scanning: the barcode reader option helps to reduce errors by automating the patient data input
• 3, 6, 3x4, 2x6 or 12-lead ECG display
• 12 lead ECG real-time printout (manual mode)
All in all, the new touch screen devices promise to streamline cardiopulmonary diagnostic tests.

More on the subject:
More on companies: