Developing the electronic health card
Siemens and DOCexpert form a new collaboration
For a number of years, both the Communications and Medical Solutions Groups of Siemens AG and the Bamberg-based firm DOCexpert Computer GmbH have been actively involved in creating IT-based end-to-end solutions for medical practices, medical care centres, clinics and integrated care networks.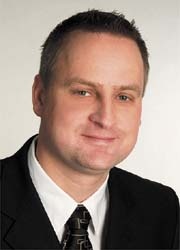 Recently, they agreed to work together to develop joint concepts for the upcoming rollout of the German electronic health card. The two companies will offer an all inclusive package to ensure a secure link of the DOCexpert medical practice software to the telematics infrastructure. In addition, Soarian Integrated Care, the electronic patient file developed by Siemens Medical Solutions, will be integrated in the DOCexpert Group's health professional systems and solutions for medical care centres. This will enable convenient exchange of information on treatment, not only between medical practices, but also across sectors between doctors' offices, clinics and facilities providing follow-up treatment.

The first subject of the partnership will be an all-inclusive package for the 13,000 DOCexpert users to enable a secure link to the telematics infrastructure. This primarily comprises the 'HiPath SIcurity Connector' developed by Siemens Communications; integration of the medical practice software from DOCexpert, and card readers. The Connector forms the secure interface between the existing medical information systems and the planned telematics services, such as the e-prescription.
This project combines the experience of Siemens AG in secure communications solutions with DOCexpert's knowledge of the practical needs of doctors' offices. Jens Naumann, Managing Director of DOCexpert Computer GmbH, stressed: 'Networking medical practices will succeed only if all the telematics components are tuned precisely to each other and have been tested.'
Their second cooperation will be to equip medical care centres, medical practices and cross-sector integrated care networks with IT. Within this, the electronic patient file Soarian Integrated Care will be integrated in the DOCexpert health professional systems, so that users in clinics and doctors' offices can share information on cross-facility treatment.

In a European Hospital interview, Jens Naumann discussed the implications of this intersectoral collaboration, and he began by discussing the two entirely distinct IT areas: hospitals that follow their own rules and regulations, and doctors' offices.

'Both still communicate with quite outmoded means - paper, telephone and fax. Sure, there are islands of electronic communication, but there is no structure, and above all electronic communication is not secure. Unfortunately, the IT worlds of hospitals and of medical practices are incompatible,' he pointed out. 'They are different worlds and even use different languages. In the medical practice sector, when we talk about a diagnosis we are talking about the ICD-10 definition. In a hospital the term diagnosis can mean something different. For us non-hospital based doctors there are certain additions to the category diagnosis which don't exist for hospital physicians for example exclusion or status after. When I transfer a diagnosis to a hospital, status after can turn into exclusion - but the exclusion of let's say breast cancer is something quite different than status after breast cancer.

That means up to now the two sectors have never communicated with each other in a structured fashion - because they didn't have to. The new legal situation in Germany, namely integrated care and the opening of hospitals for specialised services in the out-patient sector, or the fact that hospitals are bound to the referring physician, means that this language problem must be solved. Hospitals are forced to watch their balance sheets and therefore try to cooperate closer with the physician in the medical practice. So, suddenly it became clear that a communication tool is needed. Therefore an attempt was made to get the providers of hospital information systems (HIS) and those who provide systems for doctor's offices to work together on one integrated system. In the beginning we had to admit that all we could do was send a pdf file. There was no structure, no automatic allocation of patients and no method to use the documents intelligently.

A high-resolution pdf file is too large, and you can't really work with it. Due to the already mentioned opening, and the increasingly commercial orientation of hospitals, customers demand a technological solution from IT providers. The HIS providers now offer portals that can be accessed by physicians in medical practices. That's a beginning. However, in reality this system cannot be implemented in most doctor's offices because the physician cannot transfer data from the portal into his system and vice versa. Therefore we designed a structured so-called physician's letter, which can move from A to B and back.

Available since May this year, it was developed by the members of VHitG based on international standards - the buzz words being CDA, Clinical Document Architecture 2.0, HL7 Version 3 and SCIPHOX-XML, which are technical structures used worldwide. It is quite a new experience for us that all providers of hospital software and of software for medical practices, who are usually in a tough competitive situation, got together to cooperate - and, they've forked out money: 15 corporate members of the initiative provided ¤15,000 each and each VHitG member another ¤2,000 per annum. Everybody was prepared to finance the development of a standard that was the basis for the structured physician's letter.

How can the VHitG physician's letter be integrated into other systems?
Integration of the document, and further processing in each hospital system, are the next, rather complicated steps. Initially, we will focus on the classic hospital discharge data, as this is the biggest problem: the patient leaves the hospital and three weeks later his local physician receives the physician's letter from the hospital. We want to facilitate this by transferring the data electronically. The physician will receive all pertinent data regarding medication, diagnosis or discharge status immediately and can save them in his system and integrate them in his patient file.

How does this fit into your collaboration with Siemens? How did the Siemens competitors react?
The question is misleading. Implementation of the VHitG physician's letter into DOCexpert - our software for physicians' offices - or into the Siemens or any other software is easy. The communication is entirely independent of the target system. A physician using DOCexpert can send his physician's letter to any HIS, whose manufacturer was part of the initiative - and all major players were involved. We created an open standard which is a step change for the market, also for the HIS market. Now the interfaces are open, the implementation guidance for the VHitG letter can be downloaded and the solution can be easily implemented. This will lead to more transparency in the market and the providers of software for medical offices and of HID software no longer have to programme the various different interfaces.

Did you integrate Integrating Healthcare Enterprises (IHE)?
We used the experiences with the IHE compatibility tests, the mixture of Connectivity and Marathon. And, prior to ITeG, we performed a two-day connectathon.

Did it work?
Perfectly.
More on the subject:
More on companies: