Sponsored • 1-Hour-RT-PCR
Detect SARS-CoV-2 on the Fluxergy Platform
Now Available: The Fluxergy Analyzer System is a testing platform designed for sample-to-answer point-of-care testing, enabling clinicians to cost-effectively conduct molecular in vitro diagnostic tests.
The analyzer system is designed to deliver test results within one hour. This device is solely intended to be used by healthcare professionals.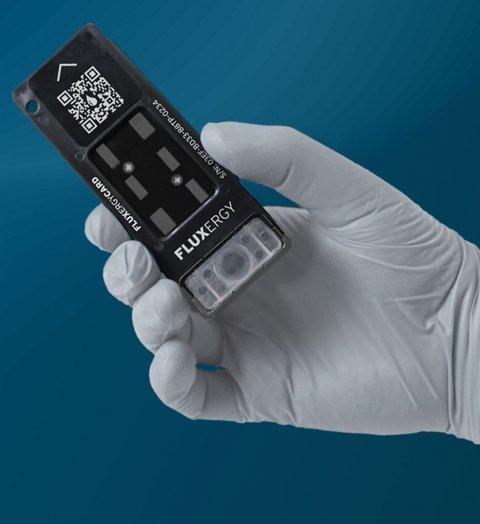 The Fluxergy Diagnostic Testing System consists of:
Fluxergy Card - a single-use "lab-on-chip" consumable technology
Fluxergy Analyzer - a highly integrated detection system
Fluxergy Works software - an analysis and cybersecure communication platform for test data
Fluxergy's simple workflow on a compact analyzer makes it ideal for use in laboratory or field settings. Potential environments for rapid testing applications include emergency rooms, outpatient procedures, urgent care, workplace screening, mobile testing, and community level testing settings.
The Fluxergy Test Kit Covid-19, which utilizes state-of-the-art Sample-to-Answer-RT-PCR and microfluidics technology, has been shown to identify the SARS-CoV-2 virus in one hour.
Highly automated, with no extraction required
Historically, one of the biggest challenges in point-of-care PCR testing is the ability to automate the more labor-intensive extraction processes. The microfluidic technology embedded within the Fluxergy Card enables a highly efficient simplified workflow: No extraction and minimal hands-on time. Our goal is to make testing more accessible. We believe the technology embedded within the Fluxergy Analyzer System, with cost-effective and scalable test cards, could enable the widespread adoption of point-of-care testing.
Simple Workflow designed for rapid testing
Real-Time RT-PCR with no extraction required
Minimal hands-on time per sample
Assay Target: SARS-CoV-2 N-gene and orf1ab gene
Limit of Detection (LOD): 0.89 TCID50/mL of sample
Sample: NP swab in VTM.
The simple workflow of the Fluxergy Analyzer System:

About the Test
Identification of the SARS-CoV-2 virus occurs using target-specific primers and fluorescent-labeled probes that hybridize to a conserved region of the non-structural polyprotein (orf1ab) and the N gene of the SARS-CoV-2 virus. Each Fluxergy PCR Card consists of multiple polymerase chain reaction (PCR) chambers, each conducting its own PCR amplification, enabling more available data in every test.
The UC San Diego physician-scientist research team that evaluated the Fluxergy Test Kit has been led by Dr. Davey Smith, Professor of Medicine and Head of the UCSD Division of Infectious Diseases and Global Public Health. Dr. Smith is a member of the Fluxergy Medical Advisory Board.
About Fluxergy
Fluxergy was founded with the goal of building a platform that enables clinicians to cost-effectively conduct a wide range of sophisticated tests at the point of care. Fluxergy's new manufacturing center is designed to produce up to one million PCR Covid-19 test kits per month. Fluxergy launched in 2013 with funding support from principal investor and Kingston Technology co-founder John Tu.
Learn more about our competitive pricing and request test kits at fluxergy.com
Source: Fluxergy