Delivering sophisticated technology to primary care
Following last year's acquisition of Aloka Co Ltd by Hitachi Medical Corporation, their powerful combination in Hitachi Aloka Medical Ltd has united next generation technologies in high-end ultrasound for use by family physicians and small practices.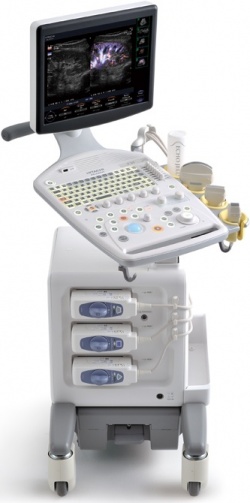 Compact, lightweight and easyto-use, the new F37 from Hitachi-Aloka punches well above its weight with features one expects to find only on high-end ultrasound platforms. Introduced for the first time at the European Congress of Radiology, the high-resolution imaging technology was the subject of a special symposium to demonstrate how advanced examinations can be routinely performed in primary care. Functions inherited from higherclass models include Adaptive Image Processing (AIP) where speckle noises are reduced while maintaining the clear boundary of a tissue as depicted by the reception signals. This capability is most useful when it is difficult to see tissue differences.
Up to now, ultrasound diagnosis of solid organs has been based on the examination of the difference of speckle patterns while in other imaging modalities, such as CT and MRI, the same tissue is shown by brightness and heterogeneous tissues are represented by a different level of brightness. With the new F37 ultrasound system, the radiographer need not scrutinise the speckle patterns by narrowing the eyes to detect differences, but can easily differentiate tissues by looking at the difference in brightness.
Unlike speckle removal techniques, Hitachi-Aloka's AIP does not spoil the resolution or the amount of information contained in the original images. Also on board the F37 (further raising the standards for everyday ultrasound) is Spatial Compound Imaging (SCI) to support optimum acquisition of images for the exam target, and the Image Optimiser, which enables concentrated examinations by simplifying image adjustments. A
n unexpected capability on the F37 is Hitachi-Aloka's eFLOW, a high-definition blood flow imaging mode with drastically improved spatial and temporal resolution. This mode makes it possible to display blood flow information with higher sensitivity and resolution than with conventional methods, enabling detailed observation of fine blood vessels, such as those inside a tumour that have proven difficult to display separately in conventional methods. For example, eFLOW has a resolving power that can separately display the hepatic artery running alongside the portal vein. Directional display, which is useful for identifying blood vessels, overcomes the problem of trade-off between high detectability of low velocity flows and aliasing. The directional eFLOW (D-eFLOW) offers blood flow information with high resolution by optimising the transmission/reception sequence and the settings of colour coding and others according to the purpose of the examination.
The diagnostic value of the F37 is increased with Broadband harmonics that uses the large amplitude transmission, typically represented by compound impulse waveform transmission. The technique of removing the fundamental wave components by phase modulation is used to assure a high and wide frequency distribution and generates images with straightforward sounds, compared with phase-modulated harmonics. The straightforward design and surprising simplicity of the F37 is the most striking quality of this newest addition to the Hitachi-Aloka line. The layout of the operation panel was designed so that even first-time users can naturally operate the system. The freely customisable operation panel offers a simpler, comfortable exam environment, leading to higher efficiency.
Ergonomics
Examinations can be performed in a natural posture, reducing strain on the examiner. A large-capacity HDD was also adopted to keep a record of everyday examination information. The clear focus on enhancing performance in primary care for clinics and institutions is expected to bring high-end exams into new regions of Europe and encourage more advanced exams with greater comfort and confidence among new users of diagnostic ultrasound.