E-learning
Continuous education in healthcare is key
CEOs are getting increasingly concerned about the availability of key skills. While other key concerns such as over-regulation are mainly external factors that can't be influenced, the availability of key skills can be proactively addressed. With the online learning experience PEPconnect from Siemens Healthineers, clinical institutions can offer each staff member continuous training. What's more, they can exactly tailor the learning content to everyone's knowledge and skill level.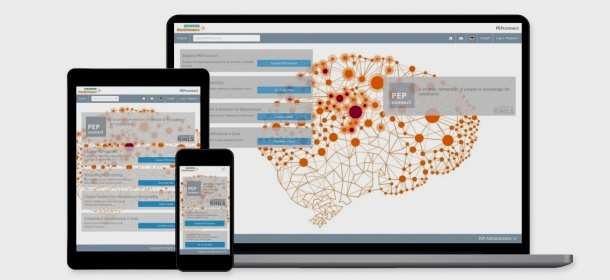 The healthcare industry is continuously evolving. Techniques and technologies that are considered best practice today can change drastically in less than a decade. That's why care providers have to keep up by continuously expanding their knowledge and skills. Consequently, continuous education in healthcare is not just a nice-to-have, but an absolute necessity for any healthcare professional who wants to provide high-quality patient care.
Investing into continuous education always pays off
The advantages of investing into continuous education are obvious: highly skilled staff, high staff retention, high reputation, better patient outcomes. The disadvantages are equally obvious: By not investing into their personnel, institutions risk losing experts to other employers. And losing out on expertise can lead to inefficient system usage, frustrated users, and dissatisfied patients – and consequently to higher costs, wasted time, and image loss.
PEPconnect simply fits
Dedicated to the continuous education of healthcare professionals, PEPconnect turns training into a daily experience. It lets users engage in personalized, competency-based education that helps improve efficiency, job satisfaction, and healthcare outcomes. PEPconnect currently encompasses 7,000 learning activities for laboratory diagnostics and diagnostic imaging. Learning activities are available in up to seven different languages – with more learning activities and languages to come.
Author:
Shannon Bellafiore
Manager, Virtual Education Solutions
Siemens Healthineers
Siemens Healthineers is the separately managed healthcare business of Siemens AG enabling healthcare providers worldwide to meet their current challenges and to excel in their respective environments. A leader in medical technology, Siemens Healthineers is constantly innovating its portfolio of products and services in its core areas of diagnostic and therapeutic imaging and in laboratory diagnostics and molecular medicine. Siemens Healthineers is also actively developing its digital health services and enterprise services. To help customers succeed in today's dynamic healthcare marketplace, Siemens Healthineers is championing new business models that maximize opportunity and minimize risk for healthcare providers. In fiscal 2016, which ended on September 30, 2016, Siemens Healthineers generated revenue of €13.5 billion and net income of over €2.3 billion and has about 46,000 employees worldwide. Further information is available at www.siemens.com/healthineers.
The products/features (here mentioned) are not commercially available in all countries. Due to regulatory reasons their future availability cannot be guaranteed. Further details are available from the local Siemens organizations.
More on the subject:
More on companies: