COMPAMED expands in space, exhibitors and visitors
Displaying innovative components, complex micro and nano technology, once again COMPAMED confirmed its reputation as the leading international trade fair for upstream suppliers to the medical products manufacturing sector.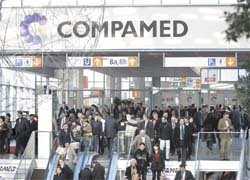 Under the banner 'High-tech for Medical Devices' more than 13,000 visitors flocked to halls 8a and 8b at the Düsseldorf trade fair centre to view products from 460 companies.
Among the highlights were innovative micro pumps that allow mixing of gas and liquids (Bartels Medizintechnik GmbH), and sensors and components (Aceos GmbH) for breath-by-breath O2 and CO2 measurements in neonates for early detection of lung or cardiovascular diseases.
Carl Zeiss Industrielle Messtechnik GmbH presented high-precision systems for quality assurance and functional control of miniaturised components. With their flexible multi-sensors the models O-Inspect and F25 offer tactile and optical measurement of micro- and nano-sized components in one step, Zeiss explained.
Around 10% of exhibitors showed foil and film packaging for sterile products. For example, since August this year, Bischof + Klein GmbH & Co KG, a European full-service provider that emphasises the need to meet the highest hygiene requirements, said that it has performed all extrusion, printing and packaging steps under one clean room roof.
The focus for COMPAMED 2008, which will take place in tandem with MEDICA (19-21 November), will be on mobile telephony and PDA computers for the growing Ambient Living Systems (AAL) market. Micro systems offer sensory functions and their data transfer capabilities that may revolutionise healthcare delivery to patients living at home.