China may scoop a fifth of global ultrasound revenue by 2016
Market experience is likely to sharpen between local Chinese suppliers and multinational suppliers.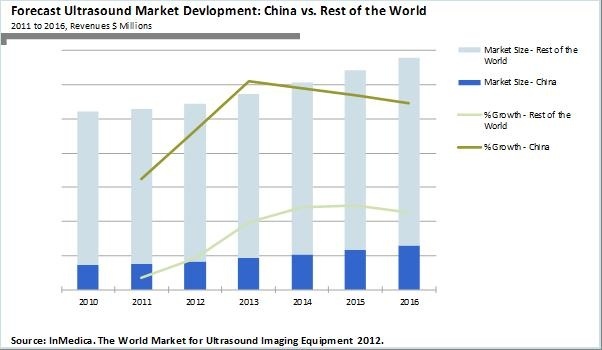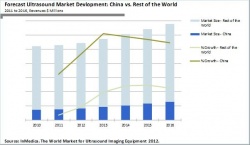 Following a period of vast investment in healthcare, the outlook for China's ultrasound imaging equipment market remains very positive, according to a new report from InMedica, part of IHS Inc. The Chinese Ultrasound Equipment Market – 2012 cites recent public health investment from 2009 to 2011 as merely a stepping stone in China's healthcare revolution. Consequently, revenues generated from Chinese sales of ultrasound are forecast to represent close to 20% of global revenues by 2016. The report points out that the three-year Chinese government healthcare reform drove rapid growth in unit shipments of ultrasound between 2009 and 2011. 'Growth was most evident in simple value and low-end ultrasound systems (average selling price less than $30,000), a combination of government targets to provide lowcost healthcare for rural regions, and increasing competition and influence of local Chinese suppliers. Combined with further growth in premium and high-end equipment in the top Tier 3 hospitals, China experienced revenue growth of 8-10% annually.' There appeared to be little evidence this year of a saturated market. 'In fact,' InMedica continues, 'revenue growth is forecast to increase to a compound annual growth rate (CAGR) of 11% over the next five years.'
Stephen Holloway, senior analyst at InMedica, further explained: 'While the volume of lower-value ultrasound equipment is forecast to decline significantly, a dramatic shift in demand for higher value colour equipment in Tier One and Tier Two hospitals willdrive strong revenue growth. Public investment in Tier two county-based hospitals, to produce regional centres of excellence, will also increase demand for mid-range ultrasound equipment. Intriguingly, this market should experience stiff competition between local Chinese suppliers now producing higher specification systems, and multinational suppliers looking to expand into new markets.' Conversely, ultrasound market growth in the rest of the world is forecast to remain below 5% over the next five years. One key factor curbing this growth is the on-going financial crisis in the Eurozone, the InMedica analysts explain.
'This is particularly evident in Southern European countries such as Italy, Greece, Spain and Portugal, where the ultrasound market has been heavily impacted. 'As economic instability continues and tight public austerity measures are implemented, the replacement of ultrasound equipment is being cancelled or postponed,' added InMedica analyst Carly Reed.
New emerging ultrasound markets are counteracting European low growth. India, Thailand and Indonesia are demanding increased access to healthcare services, thus driving strong growth in low-cost ultrasound equipment. Long-term, those emerging markets are predicted to experience similar development as China, albeit at a slower rate, the report foresees.
As Carly Reed points out, many newer emerging markets remain in infancy. 'These regions have huge potential for further growth, yet currently don't have the economic or public firepower to implement wideranging healthcare initiatives in the short-term.'
In the next five years, the analysts predict that China will emerge as a dominant and insatiable consumer of ultrasound equipment, driving rapid growth. 'The value of future market growth here is best reflected in the movements of the global market-leading suppliers; almost all have invested heavily in specific Chinese centres for research, manufacturing and sales,' Stephen Holloway concludes. 'The future of the ultrasound in China looks to be very assured.'