Cardiology on the road
Part of the University Hospital Centre at Charleroi, the cardiology service provides consultations for a cluster of other hospitals, polyclinics and private physicians, which means that Dr Kathleen Retailleau takes to the road several days of each week to see patients throughout the region.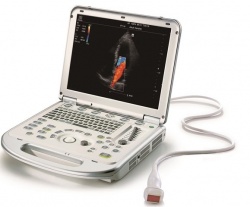 'Back in the echo lab at the hospital we have all the equipment for examinations, but for visiting consultations I need to bring my own echo system,' she said, adding that at one moment she may be visiting a general practitioner's office and, later the same day, work at an out-patient clinic.
To assure a mobile capability for cardiology ultrasound her choice is the Mindray M7, a hand-carried diagnostic system.
'I tried four or five different systems before deciding that the Mindray M7 was the best suited for this assignment with the best image quality and colour mapping,' she explained. 'It's a really complete offering for cardiology practice with advanced functions such as tissue Doppler imaging and IMT [auto-measurement of carotid intimae-thickness], and very good probes for cardio-vascular exams.
'It was really complete and good for my practice whether for standard echography of the heart, trans-thoracic exams or carotid ultrasound,' to determine a risk for stroke from plaque build-up, she added.
Designed for use at the point-of-care, the Mindray M7 portable ultrasound system delivers premium imaging performance across a broad range of specialties to assure an enhanced level of diagnostic confidence and efficiency.
For cardiologists, Mindray offers a suite of specialised functions, such as Free Xros imaging for anatomic M mode, as well as iClear for adaptive speckle suppression to improve contrast resolution and iTouch intelligent image optimisation.
Designed in a familiar laptop style, the M7 is built to travel with a robust magnesium construction reinforced with anti-shock and anti-splash features.
With a grab-and-go carry case, the machine can be powered either by high-capacity lithium-ion batteries or the nearest electrical outlet.
'When I compared the quality of images, performance and portability, the M7 was clearly the best choice and best value,' Dr Retailleau confirmed.
Mindray at Medica: Hall 9, booth A74/78
More on the subject:
More on companies: