C-Arm technology in daily use
Last year, orthopaedics and sports medicine specialist Dr Rainer Burgkart (left), who is also a musculoskeletal researcher, selected a new C-Arm for use at the Technical University of Munich (Klinikum rechts der Isar). Recently, we asked him for the reasons behind this choice and his subsequent experience with this device.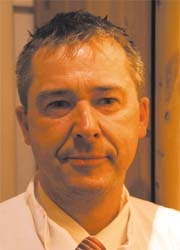 Dr Burgkart: We had shortlisted other providers. The Ziehm Vision Vario 3-D convinced us through its excellent image quality and the enormous flexibility of the system. Initially, we had a space problem – our operating theatres are comparatively small, but we obviously didn't want to compromise on the technology; we wanted to be state-of-the-art. This system was the only one that fulfilled this requirement, which is actually not as banal as it sounds. Its flexibility becomes most apparent during use: to capture the entire three-dimensional volume the C-Arm swings on an elliptic curve with a variable iso-centre. For example, this procedure allows us to generate 3-D images of the hip and shoulder, which play a decisive role in tumour surgery. Orthopaedic tumours are often found in almost inaccessible places that are hard to capture, making precise, safe biopsy very difficult.
Apart from biopsies the system is particularly suitable for spinal intervention, such as for stabilisation. The placement of pedicle screws has become a technically a lot easier due to 3-D images and the precise navigation system.

So, generally speaking, 3-D imaging guarantees more safety and accuracy during an intervention: the surgeon can assess whether he is using his tools correctly or whether a screw is in the right position during the actual surgery and, if need be, can adjust it. The number of cases where items such as screws are wrongly positioned should reduce greatly in the future. Previously, to make such an assessment we had to generate numerous C-Arm images and, if necessary, correct things during a second procedure. This not only took up a lot of time, but also the patient was additionally exposed to an increased radiation dose. So, since we've been using the Ziehm Vision Vario 3-D, we've saved time and cut down on radiation doses – with an even safer result than we had before.

To determine precisely the changes between bone and soft tissues for tumour surgery, outstanding contrast performance is needed. Is the system convincing in this area?
In the first cases in which we could test the flat-panel technology, the contrast performance was excellent in the soft tissues as well as bones. The same applied to depth of contrast. A further advantage of this technology is that there is no distortion. A straight K-wire is shown without the usual distortion, which obviously adds additional safety to the assessment. In my view FD technology has considerable advantages in terms of mobile imaging.

On the whole, this system has made our work a lot easier on a daily basis, not least because of the great ease of use despite the sophistication of the technology. The handling of the user console is similar to that of a CT – there was almost no need for any adjustment and we were able to start using the system without any significant problems.
More on the subject:
More on companies: