Bringing surgical quality to TAVR valves
A cardiac surgeon, Wolfgang Goetz MD once stitched together custom aortic valves in the operating room. Today he is CEO of Transcatheter Technologies in Regensburg.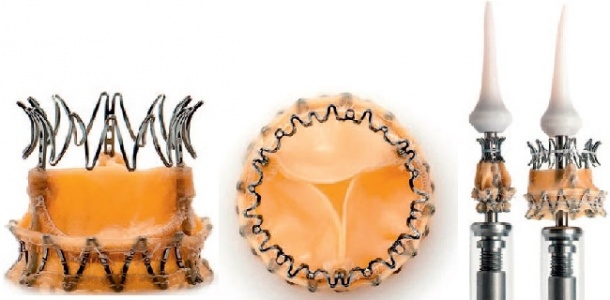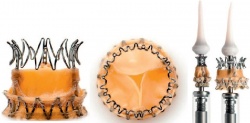 Transcatheter Technologies is a firm bringing to market a novel design for a next-generation aortic valve that he believes solves key issues challenging the current models for transcatheter aortic valve replacement (TAVR), specifically paravalvular leakage, improper positioning, durability of leaflets, and a high rate of pacemaker implantation.
In July 2014, ahead of print, the journal EuroIntervention published results from the first-in-human implantation of the TRINITY heart valve from Transcatheter Technologies, emphasising the unique ability to both reposition, and where necessary, retrieve the device.
The lack of these capabilities in first- and second-generation TAVR devices leads to suboptimal positioning of valves in many cases, the abstract text notes, which 'may result in paravalvular regurgitation, AV conduction delay, or compromise of coronary perfusion'. In the highlighted case, repositioning was required during the procedure and 'repositioning of the Trinity resulted in optimal position without paravalvular leakage and with perfect function,' according to the EuroIntervention abstract.
'The reposition-ability for the Trinityvalve that we provide is not meant to be used all the time,' explained Goetz, noting that in about 30% of the cases of TAVR implants, the cardiologist is not satisfied with the valve positioning.
When there is a positioning problem, this feature on Trinity, he said, 'allows an operator to go back and solve the problem without surgery, and without risking the life of the patient. It has been compared to having an airbag in your car. You don't drive the car expecting to have a crash, but if it happens, you really want to have that security feature.'
'We have learned from the clinical experiences of the big players, problems with paravalvular leakage because valves do not seal properly, problems with valves interfering with the heart's electrical conduction system. When I look at the valves that are now on the market, the big players have not solved these problems,' he said, adding that the problems persist even with the newest line of improved valves.
'There are ways to solve this,' said Goetz. 'We have a conforming skirt that provides small flaps that will lay over any leakage. As for the pacemaker problem, our plan has been for a valve that we can implant with a unique anchoring system so high in the aortic root that we don't touch the conductive tissue in the left ventricle, a few millimetres below the annulus plane.
'We've done two first-in-human implants now reaching one-year follow-up, which show that the Trinity will work as designed. With these patients we were able to demonstrate a step-wise procedure with a precise positioning at a location where we do not compress the conductive system. None of the patients had paravalvular leakage, none had pacemakers implants,' he reports. 'It's not a study that gives us statistical power, but it showed our hypothesis worked.'
If Goetz is proud of the success achieved in addressing these well-known challenges, he reserves his real passion for the little-discussed issue of durability of valve leaflets in current generation TAVR devices.
'What about durability?' he asks. 'I am not talking about the durability you need to receive CE mark approval, which is 200 million cycles mechanical testing. You won't get to the market unless you have this. Trinity has now reached 600 million cycles. The mechanical durability of our leaflets is incomparable.
'Our objective is to demonstrate the same durability performance as a surgical valve. 'The big problem with TAVR devices is the crimping. No matter if you have a self-expanding or a balloon-expandable model, you have to crush the valve leaflets,' Goetz explains. 'As a cardiac surgeon my first question was to ask what they are doing to these leaflets. The leading valve producers can show you how they produce surgical heart valves with very special technologies to ensure they never crush the valve leaflets, to prevent any damage to the integrity of the material. They avoid damage to the surface of this very fragile material they are using for leaflets.
'As a surgeon you are told to be very gentle and be careful to never to touch the leaflet, because where you have touched or damaged the integrity of the material, it will start to deteriorate faster. Now TAVR comes along and they are crushing these leaflets to squeeze them into the catheters and, for sure, they are damaging the leaflets. You break collagen fibres, and you cause disruption of leaflet surface, which was already shown in several studies. It is very well known that this is going to lead to early deterioration of the leaflets. The proof will only come once TAVI is performed in patients with a longer life expectancy' he said.
'What we do is offer a valve that is pre-mounted on a detachable tip,' he explained. 'The expanded valve and leaflets are packaged in a liquid. Before implantation, the valve prosthesis is folded and the leaflets are stored in a 'garage' in which the leaflets are not crushed. Once the valve is in position, a sleeve slides back and then the valved stent is expanded. Now you can release the valve or you can stepwise fold the valve again if you need to reposition. We have quality control with a pre-mounted valve and we save time in the operating room because assembly is faster, that will reduce the number of personnel required.'Can a small start-up company really expect to find a place in the fast-expanding and fiercely competitive landscape for TAVR devices?
'Definitely,' replies Goetz without hesitation. 'The market is huge, estimated to grow to $4 billion in 2020 worldwide. Analysts have been underestimating the market to this point. Once the Asian markets open up it will be much, much bigger. Even a small share of this market will be big enough for making a viable business.
'As we have seen in cardiac surgery, existing valve prostheses will be replaced by new improved devices with better performance. That is the natural evolution in a market,' Goetz pointed out. 'Products improve, they get better, they will be replaced and there will be a place for a valve that solves the problems of paravalvular leakage, repositioning and pacemaker implantation.'
Profile:
Wolfgang Goetz MD gave up a successful career as a cardiac surgeon to start Transcatheter Technologies (Regensburg, Germany). After practicing for years at the University Hospital in Regensburg, Dr Goetz went to Singapore to lead a research project for developing an autologous heart valve prosthesis. Practicing again at the German Heart Centre Munich, his experience with clinical trials revealed to him the advantages and disadvantages of TAVR valves and inspired the start of his own company.