e-learning
Boost your learning experience with PEPconnect
The healthcare industry is a competitive environment and clinical institutions have to deliver an ever higher quality of care. Keeping up with trainings and certifications is thus of utmost importance. The online learning platform PEPconnect from Siemens Healthineers enables caregivers to conveniently access continuous education and performance support anytime and anywhere. At the same time, it keeps training costs down and is conducive to all types of learners (see whitepaper on the right).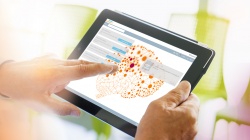 One key criterion for the long-term success of a healthcare institution is retention of highly qualified and proficient staff members that stay abreast with the ever evolving standards and technology. Because keeping professional competence on the highest level can have a direct impact on clinical performance, personal job satisfaction, and patient outcomes. For many hospitals and practices, however, it's a challenge to send employees to training centers due to budget cuts. E-learning is an ideal solution because it involves no travel or accommodation costs, helping caregivers to train more efficiently while curbing costs.
Your smarter connection to knowledge: PEPconnect
One of the greatest advantages of e-learning with PEPconnect is that the education plans can be personalized and delivered. Videos, webinars, interactive elements, and more turn continuing health education into a daily experience for every user. Learning activities can be paused and continued later on; or repeated until the participant has fully grasped its essential. And being accessible anytime, anywhere, and from any device, PEPconnect makes daily learning in a busy clinical environment easier than ever before.
What's more, having the entire course offering from laboratory diagnostics to diagnostic imaging in one place also facilitates education planning for the entire staff. PEPconnect currently encompasses 7,000 learning activities, available in seven different languages – with more modules and languages to come.
Author:
Shannon Bellafiore
Manager, Virtual Education Solutions
Siemens Healthineers
Siemens Healthineers is the separately managed healthcare business of Siemens AG enabling healthcare providers worldwide to meet their current challenges and to excel in their respective environments. A leader in medical technology, Siemens Healthineers is constantly innovating its portfolio of products and services in its core areas of diagnostic and therapeutic imaging and in laboratory diagnostics and molecular medicine. Siemens Healthineers is also actively developing its digital health services and enterprise services. To help customers succeed in today's dynamic healthcare marketplace,
Siemens Healthineers is championing new business models that maximize opportunity and minimize risk for healthcare providers.
In fiscal 2016, which ended on September 30, 2016, Siemens Healthineers generated revenue of €13.5 billion and net income of over €2.3 billion and has about 46,000 employees worldwide. Further information is available at https://www.healthcare.siemens.com/education/pep.
The products/features (here mentioned) are not commercially available in all countries. Due to regulatory reasons their future availability cannot be guaranteed. Further details are available from the local Siemens organizations.
More on the subject:
More on companies: