Bird flu vaccine production to be based in CR
By Rostislav Kuklik
Czech Republic - The US firm Baxter International Inc. is to establish a production facility to produce a quite unique vaccine in CR. First discussed in December 2005, the plan appears to have made a significant step forward. Baxter specialises in medical devices, pharmaceuticals, and biotechnology, and globally employs around 48,000 people in 64 manufacturing facilities, which include those in Austria, Belgium, Czech Republic, France, Germany, Ireland, Italy, Malta, Poland, Spain, Switzerland, Turkey, and the United Kingdom.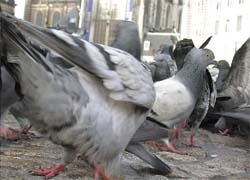 In February, Czech television reported that Baxter Vertriebs GmbH (the firm's Austrian branch) had developed a vaccine effective against an avian H5N1 influenza virus. The report was backed up by statements received both from Michael Vit, Czech Head of Hygiene, and Christian Kunz, the Austrian virologist, who said: 'The vaccine is not yet licensed, but will be soon. It's a candidate for prevention of an infection with deadly bird flu viral strains, including H5N1.'

As yet, Baxter has not wanted to issue any statements on this subject, but a statement released to the public reported it had new technologies that would allow the firm to begin production of a vaccine within two months of a possible flu outbreak. However, 'It's too early to make any concrete conclusions,' said Dr Ulrike Engels-Lange, Baxter's Vienna spokeswoman. According to Michael Vit, Baxter wants to launch clinical tests as soon as possible and, subsequently, start vaccine manufacturing for human use in the Czech Republic. Vladimir Polanecky, Prague's Head Hygiene Officer, added: 'This avian influenza is nothing more than a bird's disease, but the situation will become worse when it becomes a human's disease. We still don't have any medication for this case, because we have no idea on what particular virus or subtype will be involved.'

Baxter actually wants to employ its newly developed technology to produce a vaccine that will prevent human-to-human transfer of viral particles, should this strain of avian influenza break out. The firm unbeatable characteristic of its new method is that it is independent of eggs - usually used to produce inoculations. Instead, Baxter uses cell lines, which would overcome the potential threat of a critical lack of eggs due to poultry infection during an epidemic.

The production facility for the vaccine might be located in Bohumil, a town near Kostelec nad Cernymi lesy in central Bohemia. This was confirmed by Martina Havlickova, Head of National Reference Laboratory, and certified by the Czech regulatory authority, State Institute for Medicine Control (SUKL). In Bohumil, Baxter invested around 1.8 billion CZK ($7.2 million) in a former blood plasma production facility, Sevac, which now has around 200 employees. The Czech Republic is thus the only new EU member, except Hungary, where the real potential to produce pandemic vaccine exists. Further plans are that, later on, Czech-produced vaccine will be exported to Austria and the Netherlands.

The question is, what the future will hold for this field – both GlaxoSmithKline and Sanofi-Pasteur are striving to create the technology to enable pandemic vaccine production in various European countries.
Sources:
www.baxter.com;
http://hnihned.cz/; http://aktualne.centrum.cz/