Bayer to divest Interventional device business for $415 million
Bayer HealthCare has entered into a definitive agreement to sell its Interventional device business to Boston Scientific for $415 million (about EUR 300 million), including fees for transitional services. The sale will include the AngioJet (thrombectomy) and Jetstream (atherectomy) systems, and the Fetch2 Aspiration Catheter used in cardiology, radiology and peripheral vascular procedures.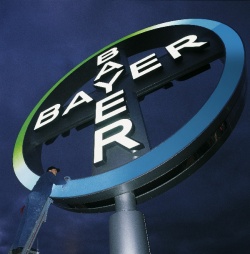 Closing of the transaction is subject to customary conditions, including relevant antitrust clearance, and is expected to occur in the second half of 2014.
"With this sale, our Medical Care division can concentrate on innovation and growth in Radiology and Diabetes Care where we already have a strong presence," said Dr. Olivier Brandicourt, CEO of Bayer HealthCare AG.
In Radiology, Bayer HealthCare is the global leader in contrast-enhanced diagnostic imaging equipment, contrast agents and Informatics for Total Dose Management (contrast and radiation). In Diabetes Care, Bayer is also a technological leader in blood glucose monitoring systems, lancing devices and diabetes management software.
"We are confident that the planned sale of AngioJet, Jetstream and Fetch2 is a positive step for the long-term sustainability of these products given Boston Scientific's strong position in devices for peripheral and cardiovascular diseases," added Alan Main, President of Bayer HealthCare's Medical Care Division and Member of the Bayer HealthCare Executive Committee.
"The addition of Bayer Interventional will expand our commercial footprint and enhance our ability to provide physicians and healthcare systems with a complete portfolio of solutions to treat challenging vascular conditions," said Jeff Mirviss, president, Peripheral Interventions, Boston Scientific. "This acquisition will accelerate the growth of our Peripheral Interventions business and strengthen our position as a global leader in peripheral therapies."
Bayer's Interventional business accounted for approximately $120 million in sales in 2013.
The AngioJet Ultra Thrombectomy System employs a unique technology to break apart and remove blood clots from within blood vessels. It has been used in more than 600,000 cases worldwide and is among the leading choices for eliminating large thrombus burden.
The Jetstream Atherectomy System is one of the most versatile debulking solutions for breaking apart and removing thrombus and plaque from upper and lower extremity peripheral arteries. The system catheters can be used to treat multiple lesion morphologies - from thrombus to challenging calcium deposits.
The Fetch2 Aspiration Catheter is used in those instances where the interventionalist is working in small vessels and prefers to use a manual thrombectomy device to resolve small, fresh thrombus in the peripheral and coronary arteries.
More on the subject:
More on companies: