Bayer's new Contour meter and Microlet 2 devices
The new Contour blood glucose meter from Bayer HealthCare Diabetes Care promises enhanced testing features that can be personalised to meet diabetics individual treatments. The firm has also redesigned the Microlet 2 lancing system.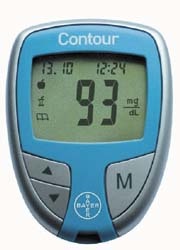 The new updated Contour includes Bayer's No Coding technology, small sample size and fast testing time, but is also reported to be the only meter that will provide diabetics with a choice of 'basic' or 'advanced' settings, i.e. either for simple diabetes management or to make it more specific.
In the advanced setting, test reminders can be programmed in, and pre- and post-meal markers can provide information on how a meal can affect blood glucose – particularly helpful for self-adjusting insulin users. In this mode they can also set their own high and low blood glucose targets. The setting also provides 7, 14 and 30 day testing averages.
The Microlet 2 lancing system, which will be included with the new Contour system, has been redesigned to simplify testing. 'It also has a large release button, smooth silicone-coated lancets and reduced puncture force. Plus it enables easy lancet ejection,' Bayer adds.
These new devices soon will be launched in selected European markets, first in Germany and Nordic countries.
More on the subject:
More on companies: