Atrial Fibrillation monitoring
First European aF patients receive long-term, continuous monitoring device
The first implant of the Reveal XT, an insertable cardiac monitor made by US firm Medtronic, which recently received CE (Conformité Européenne) Mark, was carried out in June by Professor Karl-Heinz Kuck MD, at the Asklepios Klinik St. Georg in Hamburg, Germany.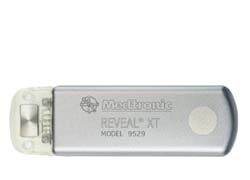 Medtronic reports that this is the first insertable cardiac monitor to offer long-term and continuous monitoring of atrial fibrillation (AF): 'All other current monitoring tools are either for a limited period or on an intermittent basis. Long-term, continuous monitoring means that a clinician no longer needs to rely only on incomplete data to evaluate how AF may be progressing or treatment effectiveness,' the firm points out.
As is well known, treatment of AF is difficult because episodes often show no symptoms and can go unnoticed by patients. 'Atrial fibrillation is the most frequent cardiac arrhythmia. It is often accompanied by symptoms that are very unpleasant for the patient,' said Prof Kuck. 'Additionally, atrial fibrillation is linked with increased mortality and an increase in the incidence of stroke, by a factor of two- to seven-fold. However, with the new Reveal XT, atrial fibrillation can now be scrutinised over a period of three years with a subcutaneous monitor. This gives us totally new possibilities for monitoring and adjusting the treatment.'
During its three-year activity, the device is reported to monitor AF patients 24 hours a day.
Up till now there has been no method to gather detailed data, over an extended period, on the progression of AF and the effect of treatment. Reveal XT is expected to give new insight into patients' heart rhythms, which might help physicians to evaluate stroke risk and determine appropriate treatment and therapy options for their patients, Medtronic suggests.
Implantation

The Reveal XT is inserted just under the skin, and there is no need for wires or sticky pads to keep it in place. The patient is said to experience no restrictions in daily activities and, because cardiac data is recorded during the patient's normal routines the real-life information obtained could provide important insight to this condition.
The medical devices manufacturer Medtronic, Inc. (
www.medtronic.com
) is based in Minneapolis; its European office in the Netherlands.
New remote monitoring feature for implantable cardioverter-defibrillators (ICDs)
The company also recently launched a remote monitoring feature for ICDs, which have proved effective (98% of cases reported) in patients suffering recurring ventricular arrhythmias.
These patients have needed to have device check-up's two to four times annually, as well as unscheduled visits in critical situations, Medtronic points out, adding that its new CareLink Network system will enable home-monitoring, with internet-transmission of data from implanted cardiac devices. To do this, the patient holds a small antenna over the device and information on how their heart and ICD are working is transmitted to a secure physician website for a virtual checkup.
'This technology,' said Peter Steinmann, Medtronic's Vice-President for Western Europe, Cardiac Rhythm Disease Management, 'opens up the potential for more efficient chronic disease management and better outcomes.'