Arteries seen in a new light
New imaging technologies are opening a new chapter in interventional cardiology by offering something this widely practiced procedure has been missing -- vivid clinical evidence to assess effectiveness. Interventional cardiology has moved rapidly from opening blocked arteries by crushing plaque with inflatable balloons to reinforcing the walls of the re-opened arteries with flexible metal stents and then coating the stents with therapeutics to prevent arteries from re-closure.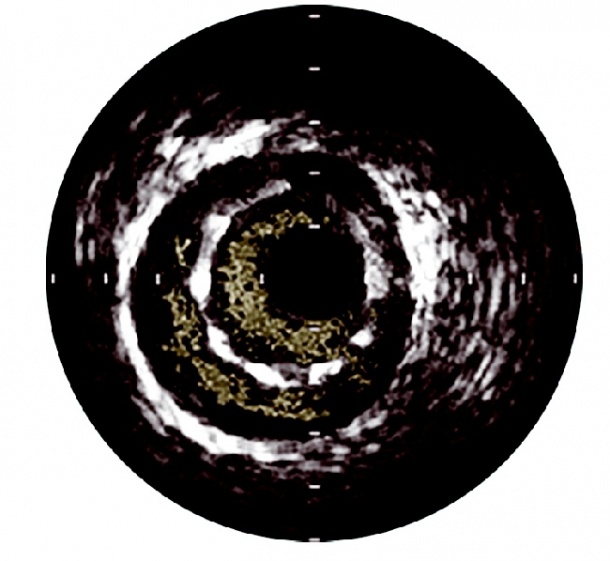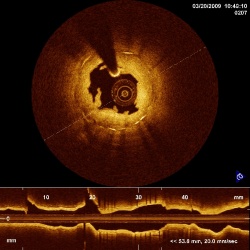 Each improvement increased costs without producing conclusive evidence of its long-term benefits.
Today more than two million patients worldwide undergo coronary stenting and by 2012 healthcare systems are expected to spend more than US$12 billion on these procedures.
Yet, does stenting really work? More critically, how can we know whether a specific stent, placed at such a high cost, really contributes to a better outcome for a specific patient?
Stenting was set back on its heels in 2006 by the COURAGE trial, which said medical therapy can be equally effective for some patients and then was seriously challenged in 2008 when the SYNTAX trial showed traditional open-heart bypass surgery can be equally effective.
Now the emergence of techniques for real-time intravenous examination has created new views for detailed study, allowing cardiologists to assess specific lesions and plaque formations before taking action, to determine what type of intervention is appropriate and, significantly, to conduct a micro millimetre analysis of the effectiveness of stent placement and performance.
Angiography is not enough
Interventional cardiology is performed by watching a grey angiography that displays the placement of the catheter in real time as the cardiologist arrives at the target lesion and effects an action, including complex procedures of simultaneously placing stents in the main branch and side branch of a bifurcated artery.
Yet, as was demonstrated in the scientific session at EuroPCR 2010 in Paris this May, angiography is no longer enough, with the increasing sophistication and ready availability of intravenous ultrasound (IVUS), optical coherence tomography (OCT) and fractional flow reserve (FFR).
The era of 'stent now and question later' is coming to an end as cardiologists increasingly are able to question a diagnosis, more closely examine and prepare lesions and make decisions that can alter the nature of the intervention.
What FFR lacks in visual excitement is made up for in its effectiveness. The now famous FAME trial demonstrated how a pressure wire can measure intravenous blood flow to aid a clinical decision whether to stent a lesion or not. With this guidance, one-third fewer stents were placed while outcomes were improved by 28% and costs were reduced 14% per patient, or about US$2,000.
Released this year, two-year data from the FAME trial confirmed the original findings and shows that routine measurement of FFR in patients undergoing percutaneous coronary intervention (PCI) significantly reduces mortality and myocardial infarction compared to PCI guided by angiography alone.
IVUS provided the first inside views of plaque and stents and the ability to filter data from the ultrasound signal, which penetrates the tissue, is increasing its value as a diagnostic tool for interventional cardiologists.
Innovative features introduced by the Volcano Corporation to its IVUS platform include a virtual histology (VH IVUS), a capability that classifies plaque into four tissue types to help assess lesion risk.
'Here is the simple greyscale IVUS image, and then we add VH IVUS using the same signal for tissue characterisation to classify the types of plaques,' said CEO Scott Huennekens in a demonstration at EuroPCR for European Hospital.
The PROSPECT trial, sponsored by Abbott and co-funded by Volcano, identified five different types of plaque formations using IVUS and then associated risk levels.
'What we found was there were few angiographically non-significant thin-cap fibroatheromas with large plaque burden and minimal lumen area, the vulnerable plaque that can rupture and provoke a heart attack or sudden death, and that over a median of 3.4 years there is a one in five chance you will experience an adverse event,' he explained.
'The flip side is that if you have one of the other types of plaque, there is about a 0.6% chance you will have an event,' he pointed out, adding that currently cardiologists are treating all types identically, creating an opportunity for IVUS-guided studies to define practice guidelines better.
Gregg Stone, of New York-Presbyterian Hospital and Columbia University Medical Centre, will be lead investigator for a multi-centre VERDICT trial sponsored by Volcano, which will explore the potential of clinical decision support using VH greyscale and VH IVUS by testing a hypothesis of deferring treatment of specific lesion types.
'Currently many of the lesions that have been shown to be negatively predictive for a cardiac event are being treated, and we are going to ask in this trial that the lesions not be treated,' Scott Huennekens explained.
Other software driven enhancements for IVUS that are in development include '3-D fly-throughs' of arteries and multi-modal fusion, where the IVUS image is co-registered with angiography.
This year, in Europe, Volcano also introduced see-and-treat capabilities with VIBE RX, a vascular imaging balloon catheter that combines IVUS with a dilation balloon to provide image-guided therapy. Volcano plans to introduce forward-looking imaging combined with a burrowing tool for tunnelling through total occlusions, thereby creating a minimally invasive alternative to reduce the need for bypass surgery.
OCT is the newest, most vividly stunning intravenous imaging and the most surgeon-friendly, with displays of plaque and stents that are intuitively understood because OCT is based on reflected light.
A laser light signal returns higher resolution imaging of vessel and lumen morphology for coronary interventions with an ability to zoom to a 15-micromillimetre scale -- about twice the size of a red blood cell -- and 10 times greater than IVUS. 'The near-field imaging with OCT has the benefit of very fine resolution so that you can vividly see stent apposition, you can see a thrombus,' he pointed out.
At EuroPCR, LightLab Imaging announced it became the first company to receive approval from the USA's Food & Drug Administration (FDA) for an OCT system and, within two days, the company was acquired by St. Jude Medical.
The LightLab C7-XR OCT system and companion Dragonfly imaging catheter is approved for sale in Europe.
Volcano expects CE mark approval for its OCT system early next year, and FDA approval in 2011.