"Any cath lab that is not open 24/7 should be closed"
Report: John Brosky
Surviving a heart attack depends upon where you live in Europe. For cardiologists that is unacceptable. A majority of European countries can deliver life-saving primary percutaneous coronary interventions (P-PCI), yet too often these centres are closed over weekends or after working hours - when 50% of all myocardial infarctions occur.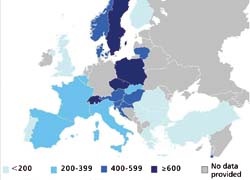 Access to P-PCI across Europe
is surprising, with better urgent response services delivered in some East European countries than in the more developed healthcare systems of Western Europe. For example, a patient will more likely have a faster door-to-balloon time in Poland than in the United Kingdom.
Access to urgent cardiac intervention in a cath lab can also vary from one region to another within a given country. If you are lucky enough to be in Croatia, for example, you have a better chance of survival when on business in Belgrade than on vacation on the Dalmatian coast.
To end these inequalities, a pan-European effort named Stent for Life was launched at EuroPCR, the annual congress of interventional cardiologists, held this May in Barcelona. The response to this call-to-action among dozens of European cardiology societies is expected to be announced at this year's European Society of Cardiology (ESC) congress.
'Any cath lab that is not open 24/7 should be closed,' said Petr Widimsk? MD (University Hospital Královské Vinohrady, Prague) who is the prime mover behind the Stent For Life programme.

A study compiled by Dr Widimsk comparing PCI capabilities against the availability of emergency P-PCI across 51 countries convinced the President of the European Association of Percutaneous Cardiac Interventionalists, William Wijns MD, to take up the cause.
Dr Wijns quickly won the support of the ESC Working Group on Acute Cardiac Care and Eucomed, the European trade association for medical device manufacturers, and formally called on national professional societies to join the Stent for Life initiative during the Presidents Dinner at EuroPCR 2009.

A pilot group of six countries – Bulgaria, France, Greece, Serbia, Spain, Turkey – has already been formed to explore best practices where 24/7 service is offered.
The programme's mission is to improve the delivery of and patient access to the life saving indications of PCI, thereby reducing the mortality and morbidity of patients suffering acute coronary syndromes. ESC adopted clinical guidelines in 2003 recommending P-PCI for urgent revascularisation of patients presenting with ST-elevated myocardial infarction (STEMI) and other forms of acute coronary artery disease.

As yet, Dr Wijns said, only 'patchwork progress' has been made in Europe to deliver P-PCI in the urgent care setting, where scheduled, elective PCI procedures are routinely delivered.
The specific objectives of Stent for Life are to increase the use of primary PCI to more than 70% for all STEMI patients, to achieve primary PCI rates of more than 600 per million inhabitants annually, and to organise 24/7 service networks among PCI centres to assure delivery of care to a population in a given region.
'This is a huge project,' said Zuzana Kaifoszova MD, director of the Stent for Life initiative. 'We are using a bottom-up approach to mobilise countries to commit the energy and resources through their national societies to identify barriers and understand why the situation exists today. For a variety of reasons we do not always reach our patients on time,' he added. 'We need new logistical approaches to patient management, that's what Stent for Life will work to achieve across Europe.'
According to Dr Wijns, among the six countries leading the pilot programme, 'We are fortunate to have best practice examples in very different systems, so that everyone will be able to find, in these practices, something that is applicable within his own country regardless of the specific issues of the healthcare delivery system or the economic situation.'