Antimicrobial resistance in Europe
Astellas Pharma EMEA today announced that it will host the Antimicrobial Resistance in Europe: Innovating Today to Protect our Health Tomorrow debate at the Bibliothèque Solvay, Brussels, on 3rd December, 2015. The event will convene leading scientists and economists from across Europe to discuss how policy-level innovation can address antimicrobial resistance (AMR) – the single greatest challenge in infectious diseases today. National and European experts will come together to share insights and experiences in antibiotic stewardship and infection control, and to explore how to better align regulatory, reimbursement and stewardship policies to support advances in antimicrobial therapy.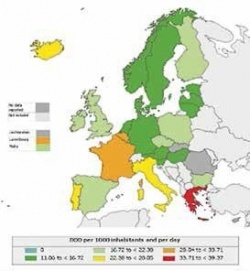 The debate will culminate in the development of high-level recommendations which can in turn help inform the forthcoming 2016 EU Action Plan on Antimicrobial Resistance, the Dutch EU Presidency Informal Ministerial meeting on AMR (scheduled for February 2016) and the Dutch Presidency conclusions on AMR.
Antimicrobials are a cornerstone of modern medicine. They are necessary to treat and prevent infections and to allow patients to undergo many common procedures, such as surgery, organ transplantation and chemotherapy for cancer. However, their inappropriate use can cause infecting microorganisms to become resistant to antimicrobial treatments, risking treatment failure and increased mortality.5 AMR is one the greatest threats to global health and there is an international scientific and political consensus that urgent action is needed.
Resistance to antibiotics continues to increase in Europe, with rates in some key organisms reaching 25% or higher in several EU member states. Each year, infections by multidrug-resistant bacteria cause at least 25,000 deaths, costing healthcare systems and governments more than €1.5 billion.1 EU countries with the highest antibiotic use generally have greater levels of resistance.6 In most countries, only three or fewer antibiotics account for 50% of the national consumption, suggesting that broad-spectrum antibiotics are the most commonly prescribed.
In Europe, 35% of hospitalised patients are given at least one antimicrobial agent with many receiving two or more, either for the treatment of an infection or as surgical prophylaxis.Yet one third (34%) of antibiotic use in hospitals fails to comply with evidence-based guidelines.
Clostridium difficile infection (CDI) is just one of the major problems created by over-prescribing antibiotics. The control of CDI in the UK is an example of how a serious healthcare-associated infection (HAI), linked with AMR, can be significantly reduced by national, government-led intervention programmes.17,18 These initiatives ensure 'best practice' infection control and appropriate antibiotic use, alongside institute mandatory monitoring and public reporting of cases.
Professor Mark Wilcox, Professor of Medical Microbiology, at the University of Leeds and Leeds Teaching Hospitals NHS Trust, and Lead on CDI for Public Health England, said: "CDI is a clear challenge for healthcare institutions, and indeed can be considered as a marker of quality of patient care. There have been large reductions in CDI incidence in the UK following a concerted public health campaign. Optimised CDI treatment brings benefits for patients, notably fewer recurrences, and for institutions, including fewer readmissions. Narrow spectrum antibiotic CDI treatment is better placed to deliver these outcomes."
Antibiotic development has been in decline for many years and an international consensus exists on the need to incentivise research and development. Key policy issues include alignment of healthcare technology assessment and reimbursement policies for antibiotics across Europe,20 and funding the innovation required to bring new antimicrobial therapies to patients. The Innovative Medicines Initiative (IMI) is supporting innovation to address AMR through various public-private partnership projects funded jointly by the EU and the pharmaceutical industry.21 One notable example is the New Drugs 4 Bad Bugs (ND4BB) programme, which represents an unprecedented partnership between industry, academia and biotech organisations. Astellas is a partner in DRIVE-AB, a project within ND4BB, aiming to develop new economic models to incentivise future antibiotic development and responsible use.
Dr Michel Goldman, Former Executive Director of the Innovative Medicines Initiative, commented: "Multistakeholder collaboration and public-private partnership are cornerstones in the fight against antimicrobial resistance."

Source: Astellas Pharma EMEA