Article • Digital pathology
An exciting new era for tissue microarrays
A new generation of tissue microarrays are delivering more efficient and time-effective solutions to answering complex clinical and scientific questions. Sitting at the core of this new approach is digital pathology, allowing specific and targeted analysis of small areas of tissue.
Report: Mark Nicholls
Latest developments in the approach were outlined by Professor Inti Zlobec at an online session of the 7th Digital Pathology and Artificial Intelligence congress in her presentation "From artificial intelligence to multiplexing: exciting avenues for next-generation Tissue Microarrays."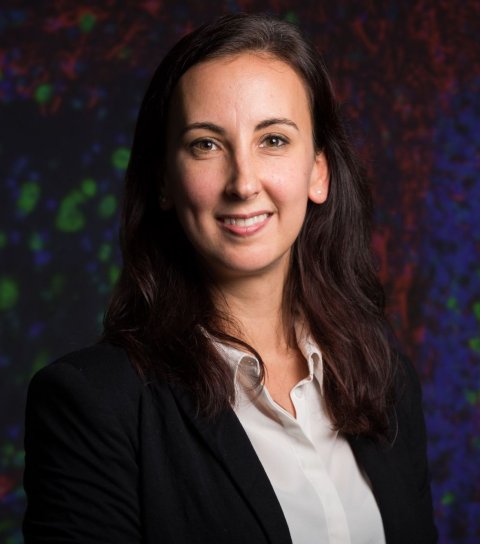 As Head of the Translational Research Unit (TRU) at the Institute of Pathology, University of Bern, she explored the potential of an approach pioneered through her unit's development of next-generation Tissue Microarray (ngTMA) and looked at the benefits of coupling with digital pathology in translational research. The TRU has assembled a massive repository of pathologist-annotated images through the ngTMA Facility, including whole slide and tissue microarray spots, linked to corresponding clinical and histopathological data, creating what they describe as "a virtual goldmine for training machine learning algorithms."
"There are exciting new avenues for investigation using tissue microarrays and these include multiplexing, DNA/RNA sequencing and artificial intelligence applications," she said. Underpinning their research work at the Institute of Pathology in Bern is the Tissue Bank Bern (TBB), which is a platform where their collections of different tissues are used and stored for different studies and analysis. That includes a frozen collection of 12-13,000 different tissue samples stored at -80c.
Outlining the evolution of TMAs from the late 1990s, she pointed to the benefits of having tissue cylinders in one block, making it easier to identify an area of focus. "It is an incredible tool because they are easier to evaluate and it is a research tool lasting years, depending on the quality of the associated clinicopathological data," said Professor Zlobec. "They create the same experimental conditions but with less resources and less material."
Her group has focused on a subgroup of cells in colorectal cancer (CRC) called tumour buds that are heavily related to CRC prognosis. "Tumour budding appears in many, or most, solid cancers and is a route to dissemination and metastasis," she added. "We wanted to capture these tumour buds and study them in terms of heterogeneity of biomarkers. This would have been impossible using old TMA techniques because there is no guide to punch out very specific areas. The way to do that, however, would be to use a digital slide." That enables researchers to mark certain areas of interest and by placing annotations on an image.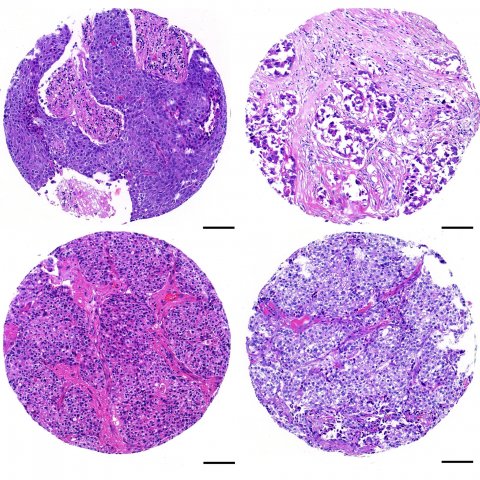 It is about constructing a TMA that is very specific for that research project and by using digital pathology as the basis, allows more questions to be answered. They can be used for precision medicine, tumour heterogeneity, rare diseases/scenarios, to target histological areas, perform animal studies, and establish antibodies and new methods. Examples include PD-L1 in colorectal cancer to identify patients who will benefit most from immunotherapy and use of ngTMAs to answer the question about PTEN deletion, a known major cause of PTEN protein loss, correlating with aggressive characteristics and worse outcome. In addition, ngTMA has been used to compare the protein expressions for breast, brain and pancreatic cancers.
Future trends in ngTMA include multiplexing, DNA/RNA sequencing and AI. Multiplexing can be expensive; scanning – and analysis - can be time consuming, but it can lead to increased precision due to smaller areas/cores to concentrate on. "Scanning time can be avoided if you have a smaller number of slides," she said. "One of the examples of multiplexing that we have helped to contribute to is CODEX, the application in co-detection by indexing."
With colon cancer, they plan to look at two different very special types of immune cell infiltrates and investigate cellular neighbourhoods to orchestrate antitumoral immunity in CRC, processed that would not be possible using regular TMA processes.
The ngTMA process also facilitates quality control, traceability and can support image analysis.
With AI, the biobank offers a massive repository of images for machine learning and is a huge resource for training algorithms, though the challenge remains over management and efficient retrieval of the data. Professor Zlobec said: "TMAs are a highly valuable biobank collective. While useful for conventional reasons such as screening of biomarkers, they have an application in the new areas of multiplexing, genomic analysis and computational pathology."
Profile:
Inti Zlobec is Professor and Head of the Translational Research Unit and Tissue Bank Bern at the Institute of Pathology, University of Bern, in Switzerland. She leads the digital pathology project for routine diagnostics as well as the colorectal research group that develops computational approaches for addressing clinical questions. Professor Zlobec is co-founder of the Swiss Consortium for Digital Pathology.