Article • Highlights from the 30th TCT Meeting
Advancing transcatheter cardiovascular therapies
A remarkable number of studies and innovations were presented at the 30th anniversary of Transcatheter Cardiovascular Therapeutics (TCT) meeting in San Diego, California.
TCT 2019 will take place in San Francisco, CA between 25-29-Sep-2019
Report: Emilie Hofstetter
Treating mitral regurgitation, lowering heart failure hospitalisations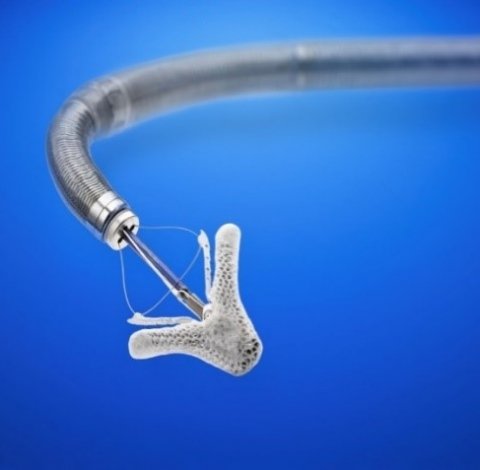 On the clinical side, the long-expected results from COAPT trial studying MitraClip device in patients with secondary mitral regurgitation and heart failure (HF) thrilled the main arena audience. 614 HF patients with moderate-to-severe mitral regurgitation, deemed too high-risk for surgery and symptomatic despite maximally tolerated guideline-directed medical therapy (GDMT), were randomised to medical therapy or mitral valve leaflet repair on top of GMDT.
The annualised rate of all HF hospitalisations within 24 months was 35.8% per patient-year in the device group, compared to 67.9% per patient-year in medical group p Value <0.001, along with a high rate of freedom from device-related complications at 12 months: 96.6%. Death from any cause within 24 months occurred in 29.1% of the patients in the device group, compared to 46.1% in the control group p Value <0.001.
Therefore the number to treat to prevent one HF hospitalisation with MitraClip was 3.1.
As the presenter concluded 'MitraClip is the first therapy shown to improve the prognosis of patient with HF by reducing secondary mitral regurgitation due to Left Ventricular dysfunction,' concluded the presenter, who was rewarded with a rare standing ovation.

Does non-invasive Fractional-Flow Reserve beat invasive technologies?
New technologies are progressing for clinical diagnoses of coronary artery disease. This is certainly the case of FFR (Fractional-Flow Reserve), invasive and non-invasive. The FAST-FFR study is a prospective, multi-centre, international trial comparing the accuracy of on-site FFRangio derived from Coronary Angiography (non-invasive) with pressure wire-derived FFR (invasive).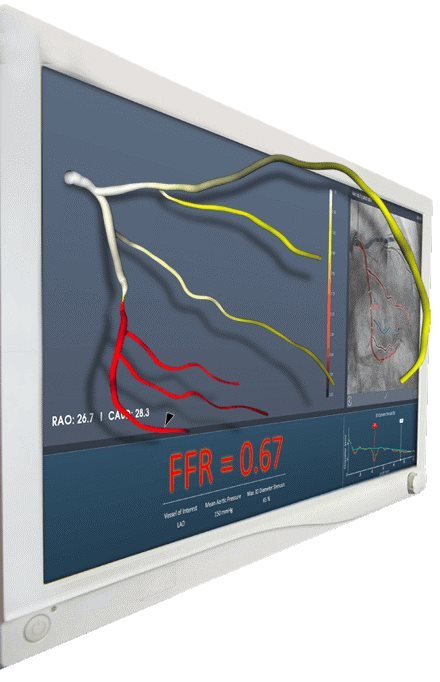 Coronary angiography-derived FFR is a new method for measuring FFR without a coronary pressure wire or hyperemic agent. FFRangio relies on creating a three-dimensional (3D) reconstruction of the coronary arterial system and estimating the resistance as well as flow at each point along the entire coronary tree. The trial included 380 adult patients with stable angina, unstable angina, or non-ST elevation acute coronary syndromes undergoing coronary angiography with coronary pressure wire-derived FFR measurement of a coronary stenosis.
The primary endpoint was Sensitivity & Specificity of FFRangio as compared to pressure wire-derived FFR using a cut-off value ≤ 0.80.
The FAST-FFR trial demonstrated that the sensitivity and specificity of the CathWorks FFRangio System were 93.5% and 91.2%, respectively, both of which exceeded the trial's pre-specified performance goals. The diagnostic accuracy was 92% overall, and remained high when considering only FFR values in the critical zone between 0.75 and 0.85.
FFRangio has the potential to substantially increase physiologic coronary lesion assessment in the catheterisation laboratory, thereby leading to improved patient outcomes

John Scandurra
The non-invasive FFRangio and a coronary pressure wire or hyperemic agent FFR remained highly correlated over the entire range of FFR values. FFRangio was successfully measured in almost all cases included.
FAST-FFR presenter John Scandurra concluded: 'The results of the FAST-FFR trial demonstrate a very high accuracy and strong correlation between the reference standard, pressure wire-derived FFR and FFRangio. Based on these findings, FFRangio has the potential to substantially increase physiologic coronary lesion assessment in the catheterisation laboratory, thereby leading to improved patient outcomes.'
FFRangio bears the potential to reduce PCI based on black and white coronary angiography alone, up to 30%.
Identifying the burden of vulnerable plaque and quantifying its impact on future coronary events
Another interesting probe-based technology, invasive in this case, allows differentiation of vulnerable plaque versus calcified or fibrotic tissue. The system automatically quantifies the total lipid core in regions of interest as the Lipid Core Burden Index (LCBI). LCBI numbers can be directly compared to prior validation studies. Unstable Lipid Core Plaque (LCP), is associated with up to 95% of STEMIs and an increased risk of peri-procedural complications.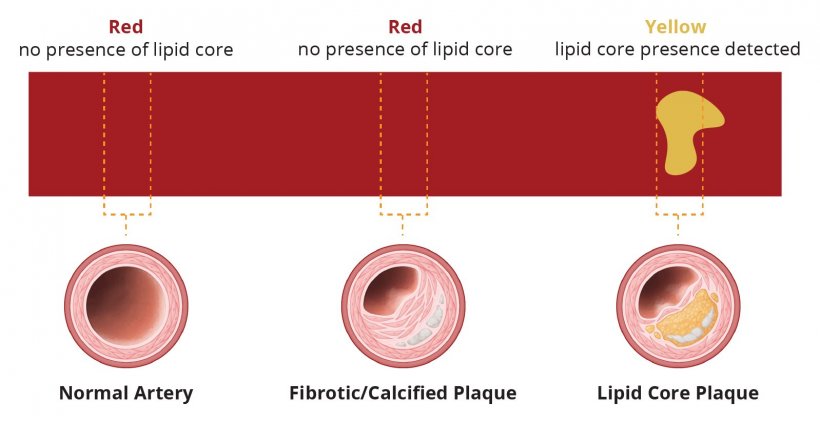 How it works
The system uses Near Infrared Spectroscopy (NIRS) combined with IVUS. NIRS allows molecules, such as collagen and cholesterol, to be distinguished within the vessel wall and thus identify the presence of Lipid Core Plaque. The microscopic mirrors at the tip of the probe are designed to deliver near-infrared light to the vessel wall and collect the di­ffusely reflected light. In a next step, algorithms analyse the returned light and calculate the probability of the presence of a lipid core plaque. In a 1563 prospective patient study on stable and ACS patients who came to the cath lab for possible PCI and to receive guideline-directed medical therapy, nearly 9% experienced subsequent non-culprit events within 24 months.
Intravascular NIRS imaging in mildly or non-obstructive coronary arteries can be used as a tool to identify both patients and non-culprit arteries at high risk for future events and should be considered for use in patients undergoing cardiac catheterisation with possible PCI. This could allow patients at risk for events to be stratified in the near future.
The TCT innovation prize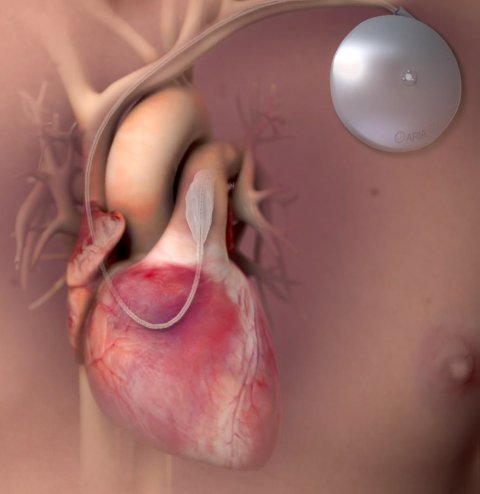 Aria CV, the Winner of the TCT 2018 Shark Tank competition, is addressing idiopathic pulmonary artery hypertension, a progressive and irreversible disease characterised by stiffening of the pulmonary arteries, which in turns overburdens the heart and leads to right cardiac failure. The Aria CV device consists of a balloon that is placed in the pulmonary artery, which inflated and deflated in correlation with the cardiac cycle. The aim is to ease the burden on the heart and provide symptom relief to the patient. The balloon is driven by a 'pacemaker-like' device implanted in the subclavian region.
10 patients have been treated at the University of Vienna, showing an improvement in pulmonary artery compliance as well as an increase in stroke volume and cardiac outcome. No safety events were reported.
A comprehensive clinical plan was represented and enrolment for the Early Feasibility Study began in summer 2018. Aria CV also received the DeHaan Foundation Award for Intervention Innovation, a $200,000 prize, at the TCT 2018 meeting. A very interesting technology to follow.