ACEM's LED lighting range
ACEM Medical Company, specialising in the manufacture of medical equipment, scialytic and surgical lamps, is demonstrating the following products at Medica 2012: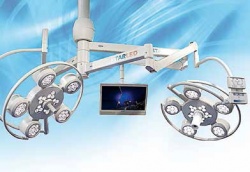 Starled 1 Evo - the LED examination lamp, is a state-of-the art product with high performances, ACEM reports. 'It is available in all configurations (rail, wall, table, ceiling and trolley mounted) and is supplied with a functional I-SENSE control panel that allows the light beam to be accurately adjusted according to different needs.'
Starled 3 Evo Plus - a LED minor surgical lamp, is increasingly sophisticated and has been provided with ENDO function (light up) that grants an ambient light thanks to light beams coming from the upper part of the lamp, ACEM explains, adding that it can also focus the light beams with a '… simple clockwise or anticlockwise rotation of the handle. It is also provided with I-SENSE control panel.'
Soled - the firm's latest development, is an LED lamp for diagnostics, minor surgery and universal applications, ideal for small operations, intensive care, the recovery room, first aid, cosmetic and dental sector. Soled's round shape makes it handy, says ACEM, adding that it is also available ceiling, wall and trolley mounted. Like all the firm's products, this lamp is based on LED technology that is reported to provide excellent light intensity and yield, a long life cycle and low consumption. Circled is an LED magnifier luminaire suitable for countless applications. It comes with a biconvex magnifier made of optical glass and a magnification of three diopters (five on demand). 'It is,' says ACEM, 'a perfect tool for an accurate control of details.' It is also available wall, table and trolley mounted.
OT-System - for the operating theatre, includes Starled 5 and OT- Starled 7 (the configurations can be adapted to the different needs). 'Both lamps are ergonomic, accurate, reliable and provided with I–SENSE controls (the synchronisation option is available on demand),' the firm points out. 'This OP-system can be configured up to four arms and, thanks to the AVSM system, it is compatible with the whole range of ACEM video cameras and monitors. 'All our products are strictly made in Italy, using the best components, individually assembled and tested by specialised technical staff and CE certified in accordance with MDD Directive 93/42/EEC.'
ACEM Medical Company is in Hall 10, booth D31.