Anaesthesiology
Accidental awareness under general anaesthesia
A UK study has highlighted the issue of patients waking up from a general anaesthetic while undergoing surgery. The research, which questioned more than 7,100 consultant anaesthetists, revealed that there was about one episode of accidental awareness in every 15,000 general anaesthetics cases in the three million UK operations in 2011.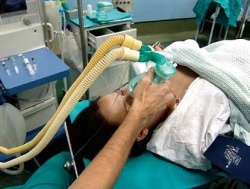 This equated to 153 reported cases, with 46 patients conscious throughout the operation, according to the interim report of the study Accidental Awareness during General Anaesthesia in the UK. This compares with previous studies, which suggested the figure was as high as about one in 500 general anaesthetics cases. Yet, the survey, to which 82% of all senior anaesthetists in National Health Service (NHS) hospitals responded, also revealed the very low use of brain monitoring technology: only 2% of anaesthetists routinely use this. Further research will be conducted to discover the reasons why.
This on-going study, by the Royal College of Anaesthetists and the Association of Anaesthetists of Great Britain and Ireland, aims to identify and quantify the issues and ensure improvements continue. It is part of the major 5th National Audit Project (NAP5), thought to be the largest study of its kind, and follows on from previous research by UK anaesthetists' bodies that focused on areas such as airway management and regional anaesthesia complications.
Most episodes are brief and cause no pain
Professor Jaideep Pandit, Consultant Anaesthetist at Oxford University Hospitals NHS Foundation Trust and lead author, said: 'Anaesthesia is a medical speciality very much focused on safety and patient experience. We identified accidental awareness during anaesthesia as something that concerns patients and the profession. The profession is therefore undertaking this major study so that we can better understand the problem and work to reduce the likelihood of it happening to patients.
'We are particularly interested in patient experiences of awareness. Although we know that some patients do suffer distress after these episodes, our survey has found that the vast majority of episodes are brief and do not cause pain or distress.' The study will continue to explore the reasons for the differences between the latest figures and previous reports, Prof. Pandit said. These could include the fact that anaesthesia is a consultant-led service in the UK, compared to the use of nurse anaesthetists elsewhere, possible differences in patient sensitivity to anaesthetic drugs, or different detection rates influencing the reported numbers.
Findings in previous studies, showing higher incidence of accidental awareness, came from research in which patients were asked about their experiences after surgery, following informed consent before the operation, while the current study details reports directly from anaesthetists. Researchers say that patients who experience accidental awareness can remember events taking place just before or during their surgery and while most recall only noise or touch, a smaller number describe feeling unpleasant sensations, such as suffocation, inability to move or even the pain of surgery. Each case will be examined in depth. Professor Pandit said: 'We know that two thirds of episodes occurred during the dynamic phase – during induction or emergence - and because those phases are brief, it follows that the awareness may have been brief.'
'Overall, patients should be heartened by fact that cases of accidental awareness are one in 15,000, and in two-thirds of those the experience was brief, with no pain,' Prof. Pandit concluded.
Professor Jaideep Pandit is a consultant anaesthetist at Oxford University Hospitals and the lead author of the NAP5 study Accidental Awareness under General Anaesthesia. In 1998-99 he was Assistant Professor of Anaesthesiology at the University of Michigan, Ann Arbor, USA, and in the latter year appointed to his present consultancy post. In 2000 he was elected to St John's College, Oxford. The professor's research interests include respiratory physiology, anaesthesia and critical care, health economics and operating theatre management. He is an editor of the journal Anaesthesia, and of Surgery and the British Journal of Cardiology. He is also on the Board of the National Institute of Academic Anaesthesia and is Scientific Officer of the national Difficult Airway Society.